Click on: My Account sub-tab

Click on: ADD/Drop/Withdraw (If you have an alternate pin/advisement key you will enter this now)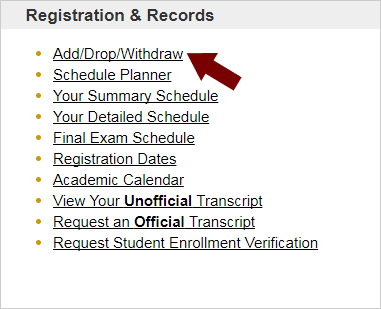 Click on: SUBMIT for the correct term. (i.e. Intersession/Summer/Fall 2015)
Click on: CLASS SEARCH

In the SUBJECT box scroll down to the subject you wish to take. (Click Class Search)
Choose the Course Number (i.e. English = ENG)
Choose the Section
Once you have chosen the class you want to take click the box, then scroll to the bottom of the page and click on: REGISTER / HIT ENTER ON KEY PAD
If this is a class that requires a lab you need to click on: One that is marked either 4.000 credit hours or 5.000 credit hours (lecture)
AND
One that is marked 0.000 credit hours. (lab/studio listed directly below)
If the class is closed and you would like to waitlist, enter the CRN number in the boxes on the worksheet. Click on: SUBMIT CHANGES and then Select: Wait List from the drop down menu.

Click on: SUBMIT CHANGES to officially add the waitlisted class. Make sure the waitlisted course is appearing in your Student Detail Schedule.

If you have the CRN NUMBER(S) (course reference number) enter them in the boxes provided.

Click on: SUBMIT after you have entered all of the CRNs.

When you are finished setting up your schedule go to the upper right side of the page and

Click on: RETURN TO MENU
Scroll down and click on: STUDENT SUMMARY SCHEDULE
Click on: PRINT in the tool bar
Be sure to exit your account.