Use of standard college templates reinforces MCC's brand and graphic identity. Please see below to download templates for your use, or for instructions on how to order the items you need.
Business cards must be ordered online through Printing Services.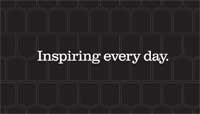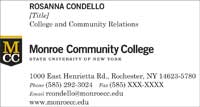 College letterhead may be printed in full color or black and white. Employees may print letterhead at their desktops or order letterhead through Printing Services.Microsoft Office templates (black and white and color versions) and/or pre-printed letterhead are available through Printing Services. Please do not design your own letterhead. Color accuracy may vary when printing letterhead on office laser printers; these minor variations are acceptable. Unless special circumstances exist, envelopes produced through Printing Services will be printed in black only.
MCC's automatic email signature application generates a personalized email signature right at your desktop. MCC employees must use their office computers to use the application. To access the application, go to your M-Drive and navigate to: MCC\Digital Resources\Branding Toolkit\SignatureGenerator. Once your signature is generated, you will find it available under the Microsoft Office Outlook Options (under Mail).
When ordering name badges,and download and submit the completed form directly to MCC's Purchasing Office. Please note: a purchase requisition is required.
The MCC PowerPoint presentation template is customizable to most presentation needs.
MCC's photo IDs now reflect the college's refreshed brand. Students and employees may continue to use their current photo ID even if it does not include the refreshed logo. Please contact the Photo ID office if you would like a new ID. Replacement and new IDs cost $10.
Advertising templates are available for a variety of situations and opportunities. Contact the Marketing and Community Relations Department (585.292.3015 or marcom@monroecc.edu) for more information.