Module 1 - What are online courses really like?
Module 2 - Learning Styles - How do I Learn?
Module 3- Strategies for Online Success
About the Author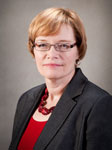 My name is Anne Hughes and this mini-course is designed to give you a taste of a real online learning environment. Currently I teach an online career development course and am a career counselor in the Career and Transfer Center at Monroe Community College. I give presentations to faculty, staff, and students about how to be successful in online courses and also how to advise students who want to take online courses. I hope you find this site informative and helpful as you begin your online journey. Please feel free to email me with feedback on this mini-course.