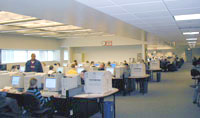 What is the Electronic Learning Center (ELC)?
The Electronic Learning Center (ELC) provides MCC students with access to computers, video tapes, audio tapes and viewing equipment in a central location. The ELC is equipped with IBM compatible computers, duplex laser printers and a variety of software. The staff is always available to assist in using the hardware and software. They also help new users become familiar with how to use a computer.
Who can use the Brighton Campus ELC?
All MCC students (full or part-time) with a valid MCC photo ID card, or MCC Alumni with a valid MCC Alumni Association card may use the ELC. Anyone using the learning center is required to adhere to the Code of Conduct and the ELC Policies.