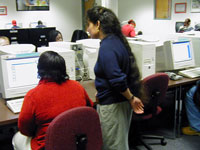 The Damon City Campus Electronic Learning Center (ELC) provides MCC students with access to computers, videotapes, audiotapes and viewing equipment in a central location.
The Damon City Campus' ELC is equipped with IBM compatible computers, scanners, laser printers, Internet access and a variety of software. The staff is always available to assist students in using the hardware and software. They also help new users become familiar with how to use a computer.
Who can use the Damon City Campus ELC?
All MCC students (full or part-time) with a valid MCC photo ID card, or MCC Alumni with a valid MCC Alumni Association card may use the ELC. Anyone using the learning center is required to adhere to the Code of Conduct and the ELC Policies.
Where is the Damon City Campus ELC?
The Damon City Campus ELC is located at the Damon City Campus on the fourth floor. It may be accessed through the library during library hours and its own entry after library hours.