Make a Contribution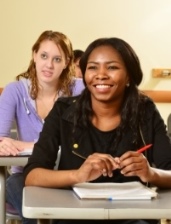 The MCC Foundation's Every Bright Future Needs a Strong Foundation campaign provides hope and opportunity to students who feel a college education is beyond their reach. Community philanthropists and leaders have given us a great start on achieving our $50 million goal. Please consider joining us and making your own personal impact on this important campaign. Future MCC students and our community will thank you for it.
Support the Annual Fund for Monroe Community College
The annual fund is a vital source of unrestricted funds that support student scholarships, faculty enrichment programs, funding for educational equipment and seed money for innovative programs. Click here to learn how you can make an annual fund gift.
Honor a Loved One
Convey congratulations or celebrate special occasions by making a gift to the MCC Foundation on behalf of a loved one.
Make a Memorial Gift
Demonstrate how much that special person meant to you and believed in public higher education by giving a gift in his or her memory.
Underwrite an Annual Event
The annual Salute to Excellence dinner, Gold Star Gala and Scholarship Open golf tournament offer a wide range of giving opportunities to highlight your business or organization and support MCC in creative ways.
Establish a Named Scholarship
Annual Scholarship
With a minimum contribution of $10,000, an annual scholarship can be established. Pledge commitments may be paid over as many as five years.
Endowment
With a minimum contribution of $25,000, an endowed scholarship can be established. Endowments are donated funds that are invested in perpetuity. Principal-generated earnings fund a scholarship or professorship/chair based on your wishes. If you are eager to have your gift impact lives now and in the future, establishing an endowment is a wise choice.
Consider Planned Giving
Incorporate philanthropy into your overall personal estate plan. MCC Foundation representatives will work with you and your financial advisor to achieve your goals, benefit your personal financial position and that of your family and supplement your retirement income.
Benefit from a Charitable Gift Annuity
By transferring assets to the MCC Foundation, you may receive tax advantages and increase your retirement income while helping students succeed at MCC.
Ready to impact student success at MCC?
Call us at 585.292.3680
Send your gift to (check or money order payable to MCC Foundation) to the MCC Foundation, 1057 East Henrietta Road, Rochester, New York 14623.