News Release
MCC News
MCC Reschedules Henrietta Lacks Family Visit (03/17/2014)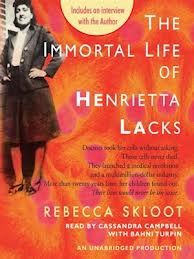 The Henrietta Lacks Family visit, originally scheduled for Wednesday, March 12 and postponed because of a winter storm, has been rescheduled for Monday, March 31, 2014.
WHERE: Warshof Conference Center in the R. Thomas Flynn Campus Center, MCC Brighton Campus, 1000 East Henrietta Rd.
Parking available in Lot M and M1.
WHEN: 7:00 p.m., Monday, March 31
DETAILS: Henrietta Lacks was a young African-American whose cells were taken without her knowledge in 1951. Her cells became the first immortal human cells ever grown in a medical laboratory. Those cells, nicknamed HeLa, became one of the most important tools in modern medicine. The Lacks family has enthralled audiences across the country talking about their mother, grandmother and great grandmother and her important contribution to science.
All the reserved/purchased tickets from the March 12th event will be honored for the March 31st date. For ticket reimbursements please email a request to tickets@monroecc.edu including your full name by Friday, March 21, 2014.
Additional tickets may be available, please email a request for tickets to tickets@monroecc.edu.
Media Contact:
Janet Ekis
Marketing and Community Relations
585-292-3023
jekis@monroecc.edu