Fall 2008 Geography Awareness Week Prize Winners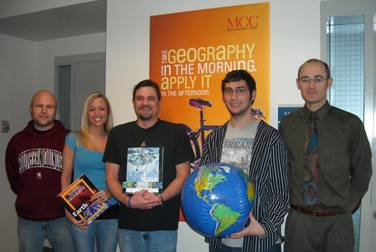 Read more at: http://web.monroecc.edu/manila/webfiles
/jlittle/documents/PostTribeWriteUp_Photo-2008.doc
---
Fall 2007
Thank you for taking the 2007 Geography Awareness Quiz! Three staff/faculty and three students received a perfect score (20/20). After the tie-breaker, the top three performing students were: Bradley Kommeth, Benjamin Savory, and Lisa Continelli. The top three performing faculty/staff were Pamela Keyes, Ann Penwarden, and Linda Ziegler. Congratulations to these geography gurus.
| | |
| --- | --- |
| | |
| Geography Awareness Week winners pose with their prizes. Front row left to right: Bradley Kommeth, Pamela Keyes, and Ann Penwarden. Back row: Michael Boester, Benjamin Savory, Linda Ziegler, and Jonathon Little. | Lisa Continelli |
When? Future Date
Monroe Community College

Brochure (Word || PDF)
WHAT? Four days of workshops and field trips, emphasizing concepts and skills in geography (mapping, physical geography, and human geography).
WHO? All teachers (Grades K-12) from the Genesee Valley Region of New York State. (Teachers from other areas will also be considered).
WHAT DOES IT COST ME? Nothing! It's FREE! And we give you continental breakfast and lunch! And we've got maps and other free stuff!
HOW DO I REGISTER?
Complete registration form (TBA) and email it to Timothy McDonnell tmcdonnell@monroecc.edu
Sponsored by New York Geographic Alliance and Geography @ MCC.