Monroe Community College (MCC) is accredited by the Middle States Commission on Higher Education (MSCHE), 3624 Market Street, Philadelphia, PA 19104 (267-284-5000). MSCHE is an institutional accrediting agency recognized by the United States Secretary of Education and the Council for Higher Education Accreditation. MSCHE is a voluntary, non-governmental, membership association that is dedicated to quality assurance and improvement through accreditation via peer evaluation. Middle States accreditation instills public confidence in institutional mission, goals, performance, and resources through its rigorous accreditation standards and their enforcement.
Accreditation by the Commission on Higher Education follows a period of candidacy lasting up to five years. MSCHE reviews institutions periodically through either on-site evaluation or other reports. Accreditation is reaffirmed only as a result of periodic reviews and evaluations through assessments of institutional achievements.
MCC was first accredited in 1965. The college's accreditation was last reaffirmed in November, 2011, through the Periodic Review Process. The next Self Study evaluation is scheduled for 2015-2016. As part of the Self Study, the College will conduct a comprehensive assessment and analysis through the context of the fourteen accreditation standards set forth by Middle States.
The MCC Middle States Steering Committee, President Anne Kress, and Steering Committee resource personnel met with Dr. Ellie Fogarty, Vice President, Middle States Commission on Higher Education, on April 7, 2014.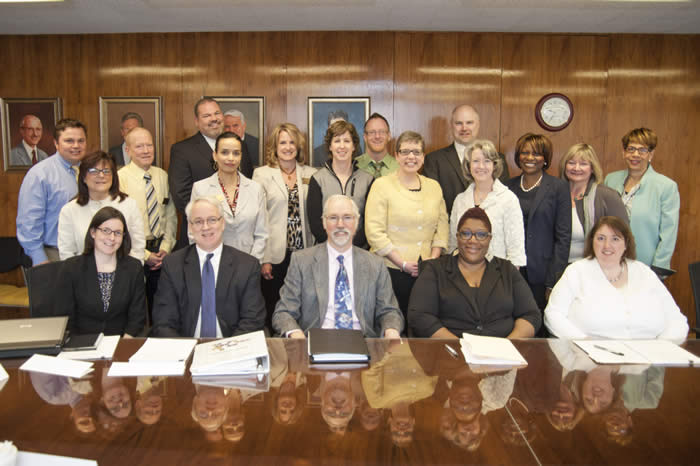 Seated (L to R): Kristen Love, Darrell Jachim-Moore, Robert Lasch, Tokeya Graham, Wanda Willard
Standing (L to R): Jerome St. Croix, Jodi Oriel, Patrick Bates, Randyll Bowen, Mary Rizzo, Holly Preische, Christine Abbott, William Dunning, Anne Kress, Terry Keys, Ellie Fogarty, Sheila Strong, Valarie Avalone, Charlotte Downing
MCC Middle States Steering Committee:
William Dunning, Co-Chair
Holly Preische, Co-Chair
Christine Abbott
Patrick Bates
Randyll Bowen
Kimberley Collins
Tokeya Graham
Terry Keys
Robert Lasch
Darrell Jachim-Moore
Jodi Oriel
Mary Rizzo
Jerome St. Croix
Laurel Sanger
Sheila Strong
Wanda Willard
Angel Andreu, Ex Officio
Kristen Love, Ex Officio
Mary Jo Witz, Accreditation Liaison Officer
The next Self Study Evaluation is scheduled for 2015 – 2016.
** Indicates documents that are password-protected and accessible only by MCC Faculty and Staff.
Timeline covering key events in MCC's reaccreditation process.
Middle States Commission on Higher Education publications:
Characteristics of Excellence in Higher Education: Requirements of Affiliation and Standards for Accreditation