Conferences & Travel
One of the most exciting aspects of participating in a club or organization is the opportunity to travel while attending a conference or seminar. Many MCC student groups attend educational workshops or compete in regional or national competitions all over the United States.
As an example, MCC's Engineering Leadership Design Team recently competed in the American Society for Engineering Education (ASEE) Two-Year College Division Design Competition held June 25, 2007 in Honolulu, Hawaii. They took first place for their design in the Two-Year College Division!
Other student groups such as the Model UN, Phi Theta Kappa, the Campus Activity Board (The CAB), and SGA and SEGA (the Brighton and Damon Student Government Associations) regularly participate in conferences as part of the training process.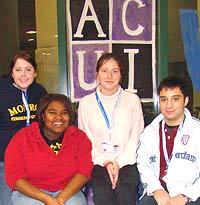 Think you might be interested in representing MCC while participating in a club or organization conference? Contact the Office of Student Life and Leadership Development. We'll be glad to show you how to begin! The possibilities are endless!