MCC News
MCC, Employers to Celebrate New Auto Tech Lab (09/28/2017)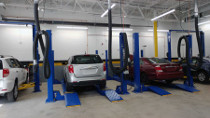 WHAT:
Monroe Community College will celebrate the grand opening of its high-tech automotive technology laboratory
and recognize local partners who helped make the facility possible.
The new lab in MCC's Applied Technologies Center features the latest technology similar to those found in the workplace to prepare students for high-demand careers as automotive technicians. The lab provides room for students to work on six vehicles at a time and allows for more aspiring technicians to pursue an associate degree or certificate in MCC's
Automotive Training Apprentice Program
. In the past, students shared a lab with those in other automotive programs and classes were held only in the evening. The opening of the new lab allows MCC to train up to 40 more students a year.
MCC's Automotive Training Apprentice Program combines learning in the classroom and lab and gaining practical experience at a local auto business. Students gain skills and knowledge in computer technology, electrical components, emissions controls, steering and suspension, heating and air conditioning. Program graduates immediately enter the workforce as entry-level service technicians.
Employers in the automotive service industry are experiencing a shortage of qualified entry-level service technicians. The number of automotive technician positions is projected to increase by more than 60,000 statewide between 2012 and 2022, of which 233 job openings are expected in the Finger Lakes region, according to U.S. Bureau of Labor Statistics.
WHERE:
Room 116 of MCC's Applied Technologies Center, 2485 W. Henrietta Road
WHEN:
2:30-3:30 p.m. Tuesday, Oct. 3
DETAILS:
Program agenda:
2:30-3 p.m. – Hands-on student demonstrations
3-3:30 p.m. – Remarks from MCC representatives and community leaders, including:
-- Monroe County Executive Cheryl Dinolfo
-- MCC President Anne M. Kress
-- Todd Oldham, vice president of MCC's Economic Development and Innovative Workforce Services division
-- State Sen. Joseph Robach, R-Greece
-- Brad McAreavy, president of the Rochester Automobile Dealers Association
-- Tom Tracy, senior vice president of marketing with Monro Inc. (formerly known as Monro Muffler Brake and Service Inc.)
-- Daniel Brotz, MCC Automotive Training Apprentice Program student
3:30 p.m. – Ceremonial ribbon-cutting
The laboratory was established through private philanthropy with funding support from the Rochester Automobile Dealers Association and Monro Inc. and with a state grant made possible through State Sen. Joseph Robach, R-Greece.
Media Contact:
Hency Yuen-Eng
Marketing and Community Relations
585-292-3063
hyuen-eng@monroecc.edu