MCC News
Corning Incorporated Foundation Invests $760K to Expand MCC's Optics Program (01/17/2018)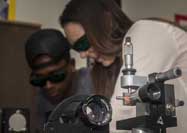 Grant will help MCC add an optics laboratory and educate 40 more students per year
Identified as a photonics hub by state and national officials, Greater Rochester is home to more than 120 optics, photonics and imaging companies. These companies employ more than 15,000 people and contribute $3 billion in annual sales to our regional economy. An unmet demand for skilled technicians remains high; an estimated 75 percent of optics-related jobs is projected to go unfilled annually unless the number of local graduates significantly grows.
Through a partnership with Monroe Community College,
Corning Incorporated Foundation
has awarded a $760,000 grant to further expand the college's
optics systems technology
associate degree and certificate programs to serve more students.
The grant will fund a new optics laboratory and expand classroom space at the Brighton Campus to accommodate more students. The grant will also help reinforce MCC's connections to local high school optics programs by offering tuition assistance to high school students who participate in dual-enrollment courses and providing professional development to high school teachers who teach
Introduction to Optics
. Attracting minority students and increasing workplace diversity will be a primary focus.
"Employers need more technicians who are career-ready with a college credential," said Karen C. Martin, president of Corning Incorporated Foundation. "MCC understands the needs of employers. The contribution from Corning Foundation to MCC represents cross-sector efforts to attract and educate future optics professionals," she said. Martin has served on the MCC Foundation Board of Directors since 2014.
"Corning Incorporated Foundation's investment in MCC has created significant opportunities for students who want to enter a growing career field that has current job openings," said MCC President Anne M. Kress. "Corning's support helps fuel the college's growth in this important business sector and, importantly, gives MCC the resources to prepare more students for success."
For the past five years, Corning Incorporated Foundation has partnered with MCC to educate a highly skilled workforce to meet the needs of industry. Corning's initial investment of $500,000 in MCC's optical systems technology program in 2012 helped the college purchase equipment, enhance curriculum based on employer specifications and promote this career field to future students. Program enrollment has increased more than 50 percent since 2013.
Gretchen D. Wood, chief advancement officer and executive director of the Monroe Community College Foundation, believes the impact of Corning Incorporation Foundation's leadership and philanthropy will be felt for years to come. "Through its investment in MCC's optical systems technology program and its students, Corning Incorporated Foundation has inspired students to recognize the value of a focused educational and career pathway and has inspired their fellow employers within the industry to recognize MCC's role in educating future professionals."
Alexis Vogt, associate professor of engineering technologies and chair of MCC's optics program, says, "There are incredible career opportunities available locally in the optics and photonics industries. Corning Foundation's generous investment empowers MCC to deliver that message to more students even before they confirm their college and career plans."
In 1971, MCC became the first school in the nation to create an associate in applied science degree program for educating and training optics technicians. MCC has received national and international recognition for its optics program which includes manufacturing and electronics, design and function of optics components, optics instruments, and experimental techniques. MCC takes pride in its optical systems technology graduates who are ready to contribute to an employer's success on day one.
For more information about the program and enrollment, call (585) 292-2002.
Media Contact: Corning Incorporated Foundation
Karen C. Martin
President, Corning Incorporated Foundation
607-974-8489
martinkc@corning.com
Media Contact:
Rosanna Yule
Marketing and Community Relations
585-292-3024
ryule@monroecc.edu