MCC News
New Green Roofs Offer Learning Opportunities, Reflect MCC's Commitment to Sustainability (07/24/2017)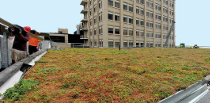 WHAT:
Four newly installed green roofs are prominent ecological features of Monroe Community College's Downtown Campus.
At almost 22,000 square feet, the roof system is capable of capturing 13,000 gallons of rainwater during a single rain event, reducing MCC storm water pollution and protecting our local waterways. The amount of rainwater it can collect is the equivalent of a backyard, aboveground swimming pool.
The roof system—a complex layering of sedum blend and succulent plants rooted in 4 inches of growing media—will also help offset the urban heat island effect and reduce electricity usage needed to cool and heat the campus.

The roof above the event space will offer valuable learning opportunities for students. For example, two biology professors plan to incorporate the green roofs into their environmental science lessons, teaching students about plant diversity and how plants can be used to absorb carbon.

More than 50 percent of the green roofs can be seen from within the campus and from the adjoining Kodak Tower; all of them will be visible in Google satellite images.

MCC is a member of the High Falls EcoDistrict.
WHERE:
MCC's Downtown Campus, 321 State Street in Rochester
WHEN:
Contact Hency Yuen-Eng, college relations specialist, to arrange visits to the green roofs.
###
Photo caption: Rochester-based Elmer Davis Inc. Roofing worked with Wayside Gardens to outfit the Downtown Campus with four green roofs. Provided photo/LaBella Associates DPC
Media Contact:
Hency Yuen-Eng
Marketing and Community Relations
585-292-3063
hyuen-eng@monroecc.edu