MCC News
MCC, ESL Charitable Foundation present Kiva Cofounder Jessica Jackley and Best-selling Author and Scholar Reza Aslan (02/28/2018)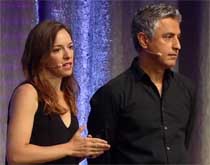 Jessica Jackley and Reza Aslan (pictured right) will share their experiences igniting social change through social media and developing web-based communities at MCC's annual Scholars' Day 2018 keynote presentation, presented by ESL Charitable Foundation.)
TICKETS AVAILABLE ONLINE
.
Jessica Jackley
helps entrepreneurs around the world access the resources they need to succeed, including sources of capital and supportive communities. Her husband,
Reza Aslan
, is a best-selling author, commentator and scholar of religions. On Monday evening, April 16, 2018, this internationally renowned couple will share their experience inspiring social change through social media and developing web-based communities to impact the world.
The culmination of
Monroe Community College's
10th annual
Scholars' Day
event, Jackley and Aslan's keynote presentation will be held at 7 p.m. April 16 in the MCC Theatre, Building 4, 1000 East Henrietta Road, Rochester. Parking will be available in Lot F. The speakers will answer questions and sign books following the presentation. (Books will be available onsite for purchase.) Tickets are required and available online at
www.monroecctickets.com
. Admission is $10 for general public; $5 with MCC ID.
The event is made possible through support from presenting sponsor, the ESL Charitable Foundation, as well as support from the Xerox Foundation and local philanthropists through the Monroe Community College Foundation.
About Jessica Jackley
Jessica Jackley is a cofounder and former chief marketing officer of
Kiva
, the world's first peer-to-peer microlending website. Kiva lets users lend as little as $25 to aspiring entrepreneurs around the globe, providing affordable capital for them to start or expand microenterprises. To date, Kiva has served 2.7 million borrowers in 83 countries, including the United States. Since its inception, Kiva has raised over $1 billion for aspiring entrepreneurs – making it one of the fastest growing social benefit websites in history.
Jackley was first inspired to start Kiva in 2004 while working in East Africa with rural entrepreneurs. She became deeply moved by their stories of success, and wanted to provide a way for her friends and family to participate in the next chapter of those stories. She was also a founder and former CEO of ProFounder, a platform providing new ways for small business entrepreneurs in the U.S. to access startup capital through crowdfunding and community involvement. Jackley is an advisor and board member on a number of organizations championing microfinance, women's issues, technology, and the arts.
She holds an MBA from the Stanford Graduate School of Business with certificates in global management and public management, and a bachelor of arts degree in philosophy and political science from Bucknell University. Jackley teaches global entrepreneurship at the Marshall School of Business at the University of Southern California, and is a visiting scholar at Stanford's Center for Philanthropy and Civil Society.
About Reza Aslan
Reza Aslan is an internationally renowned writer and scholar of religions. His books, including the No. 1
New York Times
best-seller
Zealot: The Life and Times of Jesus of Nazareth
, have been translated into dozens of languages around the world. A consulting producer on the acclaimed HBO series
The Leftovers
, Aslan was also the host and executive producer of two other original television programs: Ovation's
Rough Draft with Reza Aslan
and CNN's original documentary series,
Believer.
Aslan's first book, the international best-seller
No god but God: The Origins, Evolution, and Future of Islam
, has been translated into seventeen languages, and was named one of the 100 most important books of the last decade by Blackwell Publishers. He is also the author
of Beyond Fundamentalism: Confronting Religious Extremism in a Globalized Age
(originally titled
How to Win a Cosmic War
), as well as the editor of
Tablet and Pen: Literary Landscapes from the Modern Middle East
and
Muslims and Jews in America: Commonalties, Contentions, and Complexities
.
Aslan's degrees include a bachelor of arts in religious studies from Santa Clara University; a master of theological studies from Harvard University; a doctorate in the sociology of religions from the University of California, Santa Barbara; and a master of fine arts from the University of Iowa, where he was named the Truman Capote Fellow in Fiction. An adjunct senior fellow at the Council on Foreign Relations, he is also a member of the Los Angeles Institute for the Humanities and the Pacific Council on International Policy. He serves on the board of directors of the Ploughshares Fund, which gives grants for peace and security issues; Narrative Four, which connects people through the exchange of stories; PEN USA, which champions the rights of writers under siege around the world; the Los Angeles Review of Books, and the Levantine Cultural Center, which builds bridges between Americans and the Arab/Muslim world through the arts.
Aslan is a tenured professor of creative writing at the University of California, Riverside and serves on the board of trustees for the Chicago Theological Seminary and The Yale Humanist Community, which supports atheists, agnostics, and humanists at home and abroad. He is a member of the American Academy of Religions, the Society of Biblical Literature, and the International Qur'anic Studies Association.
Born in Iran, Aslan lives in Los Angeles with his wife, Jessica Jackley, and their three sons.
Scholars' Day showcases the work of MCC student researchers and faculty and celebrates academic excellence. In 2017, 100 students and faculty presented their research on a wide range of topics. MCC Foundation scholarships were awarded to outstanding student presenters based on feedback from judges and audience members.
Scholars' Day 2018
will be celebrated on Wednesday, April 11 at MCC's Downtown Campus and on Saturday, April 14 at the Brighton Campus. The student and faculty research presentations are free and open to the public.
The Monroe Community College Foundation seeks philanthropic investment to advance academic achievement, innovation, and the mission of excellence at the college.
Media Contact:
Rosanna Yule
Marketing and Community Relations
585-292-3024
ryule@monroecc.edu