MCC News
Top Stories
Rwandan Genocide Survivor to Speak at MCC's Human Rights Day Celebration in December
(11/20/2018)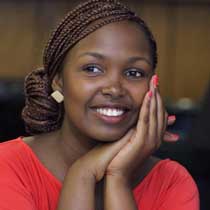 Dydine Umunyana (pictured right) shares experience of becoming a human rights advocate after witnessing massacre as a child. Dydine Umunyana was 4 years old when she survived the Rwandan genocide against the Tutsis in 1994. Today, she is a human rights advocate and author, focused on establishing dialogues to help people overcome cultural differences and build lasting peace and more inclusive societies. Umunyana will be the featured speaker at Monroe Community College's Human Rights Day celebr...
MCC Board of Trustees December 2018 Meetings
(11/19/2018)
Monroe Community College Board of Trustees December 2018 Schedule of Meetings Board of Trustees Enrollment Workshop Monday, December 3, 2018, 2:30 pm. Board of Trustees Meeting Monday, December 3, 2018, 4:00 pm. The meetings will be held in the R. Thomas Flynn Campus Center, Warshof Conference Center, Monroe B, at the College's Brighton Campus, 1000 East Henrietta Road. (The meetings may enter into an Executive Session.) Editor's Note: Parking is available in Lot V – Visitors Lo...
Recent News
We Are a Model
(11/18/2018)
MCC Foundation Honors Virginia and Carlos Carballada (11/15/2018)
MCC Foundation Honors Avangrid Foundation, RG&E for Making Anti-Poverty Program Possible (11/15/2018)
Four Health Care, Business Leaders Join MCC Alumni Hall of Fame (11/15/2018)
2 Women Among New MCC Graduates to Begin Careers in Machining (11/14/2018)
Marketing and Community Relations
Brighton Campus
Building 1, Room 313
Monroe Community College
1000 E. Henrietta Rd.
Rochester, NY 14623-5780

| | |
| --- | --- |
| Phone: | .585.292.3015 |
| Fax: | 585.292.3060 |