MCC News
Top Stories
MCC Board of Trustees October 2018 Meetings
(09/17/2018)
Monroe Community College Board of Trustees October 2018 Schedule of Meetings Board of Trustees Risk Management Workshop Monday, October 1, 2018, 2:00 – 3:30 pm. Board of Trustees Meeting Monday, October 1, 2018, 4:00 pm. The meetings will be held in High Falls A/B, Third Floor, at the College's Downtown Campus, 321 State Street. (The meetings may enter into an Executive Session.) Editor's Note: Parking is available in Lot AA – Visitor's section. For further information concerning Board ...
MCC Students Plan Ceremony to Remember Victims of 9/11 Attacks
(09/10/2018)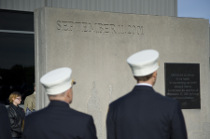 WHAT:           Monroe Community College will hold a September 11 Remembrance Ceremony, featuring remarks by MCC alumnus and U.S. Navy veteran Dwight Moxley II and Pastor David Stewart, founder of Destiny Preparation Church in Rochester. They will reflect on how the 2001 terrorist attacks impacted their lives and share their perspectives on the healing of citizens and the nation. The ceremony memorializes victims of the 9/11 attacks on the 17th anniversary of the tragedies. WHERE:        Septem...
Recent News
Business and Community Leaders Appointed to MCC Foundation Board
(09/04/2018)
MCC-RTS Bus Program to Improve Student Access (08/22/2018)
New MCC-RTS Partnership to Benefit Students and Local Community (08/22/2018)
MCC Board of Trustees August 2018 Meetings (08/17/2018)
MCC Board of Trustees August 2018 Meetings (08/09/2018)
Marketing and Community Relations
Brighton Campus
Building 1, Room 313
Monroe Community College
1000 E. Henrietta Rd.
Rochester, NY 14623-5780

| | |
| --- | --- |
| Phone: | .585.292.3015 |
| Fax: | 585.292.3060 |