MCC News
Top Stories
MCC Board of Trustees Meeting
(09/19/2016)
Monroe Community College Board of Trustees October 2016 Schedule of Meetings: Board of Trustees Meeting Monday, October 3, 2016, 4:00 pm. This meeting will be held in the R. Thomas Flynn Campus Center, Warshof Conference Center, Monroe B at the College's Brighton Campus, 1000 East Henrietta Road. (The meeting may enter into an Executive Session.) Editor's Note: Parking is available in Lot V – Visitors Lot at the front of the campus. For further information concerning Board of Tru...
MCC, Wolk Foundation Celebrate New Surgical Technology and Nursing Learning Lab
(09/19/2016)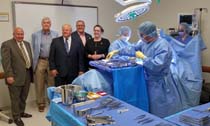 Surgical technology career field expected to grow by 13 percent over the next decade Pictured at right: Louis S. and Molly B. Wolk Foundation Trustees (l to r) David Wolk, Harold Samloff, Marvin Wolk, Jeremy Wolk join MCC President Anne Kress and MCC students to celebrate the Wolk Surgical Technology and Nursing Collaborative Learning Laboratory. The Louis S. and Molly B. Wolk Foundation's latest investment in health care education at Monroe Community College will help employers and workers co...
Recent News
MCC Students Plan Ceremony to Remember Victims of 9/11 Attacks
(09/08/2016)
MCC's Nursing Degree Program Accredited Through 2024 (08/23/2016)
MCC's Accreditation Reaffirmed (08/15/2016)
Free Session on Small Unmanned Aerial Systems Scheduled (08/10/2016)
MCC, MCC Foundation Receive National Educational Fundraising Award (08/09/2016)
Marketing and Community Relations
Brighton Campus
Building 1, Room 313
Monroe Community College
1000 E. Henrietta Rd.
Rochester, NY 14623-5780

| | |
| --- | --- |
| Phone: | .585.292.3015 |
| Fax: | 585.292.3060 |