MCC News
Criminologist/Civil Rights Attorney Helps Students Examine Emerging Trends of Hate (03/05/2018)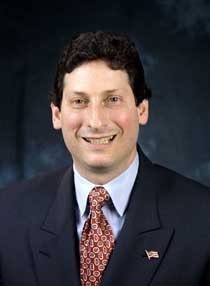 The Holocaust, Genocide, and Human Rights Project welcomes Brian Levin (pictured right) to MCC on March 22
Between September 2016 and January 2018, the
Anti-Defamation League
recorded 346 incidents of white supremacist propaganda appearing on 216 college campuses in 44 states and the District of Columbia. Twelve of the incidents occurred in New York state.
Student members of Monroe Community College's
Holocaust, Genocide, and Human Rights Project
(HGHRP) invite the community to examine incidents of hate speech and hate crime with criminologist and civil rights attorney Brian Levin. Levin will present "Emerging Trends of Hate," the 11
th
annual Voices of Vigilance keynote presentation, at 7 p.m. Thursday, March 22, in MCC's Warshof Conference Center, R. Thomas Flynn Campus Center, 1000 East Henrietta Road, Rochester. Levin will answer questions and sign books following the presentation. The event is free and open to the public. Tickets are required and available online at
www.monroecctickets.com
and at the door. Parking is available in Lot M.
About Brian Levin
Levin is a professor of criminal justice and director of the
Center for the Study of Hate and Extremism
at California State University, San Bernardino where he specializes in analysis of hate crime, domestic and international terrorism, and related legal issues.
He previously served as associate director-legal affairs of the Southern Poverty Law Center's Klanwatch/Militia Task Force in Montgomery, Alabama; an adjunct professor of constitutional law at Seton Hall Law School; and a corporate litigator. He was also a New York City police officer in the Harlem and Washington Heights sections of Manhattan during the 1980s.
Levin earned his law degree from Stanford University and a bachelor's degree in history with honors from University of Pennsylvania. He is the author, editor or co-author of books, scholarly articles, training manuals, technical reports, U.S. Supreme Court briefs, and studies on extremism and hate crime. Widely cited in top legal and social science journals, Levin has often testified before Congress and state legislatures and makes frequent presentations at universities, international conferences, legal fora, civic group functions, and law enforcement training events.
Established in 1991, the Holocaust, Genocide, and Human Rights Project is MCC's unique organization for telling the stories of the Holocaust and other genocides while transforming individuals to become advocates for human rights. Since its inception, the HGHRP has impacted more than 10,000 students and community members through educational, commemorative and advocacy programs.
Media Contact:
Rosanna Yule
Marketing and Community Relations
585-292-3024
ryule@monroecc.edu