MCC News
MCC Students Plan Ceremony to Remember Victims of 9/11 Attacks (09/10/2018)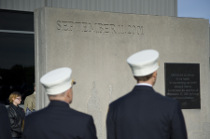 WHAT:           
Monroe Community College will hold a September 11 Remembrance Ceremony, featuring remarks by MCC alumnus and U.S. Navy veteran Dwight Moxley II and Pastor David Stewart, founder of Destiny Preparation Church in Rochester. They will reflect on how the 2001 terrorist attacks impacted their lives and share their perspectives on the healing of citizens and the nation.
The ceremony memorializes victims of the 9/11 attacks on the 17th anniversary of the tragedies.
WHERE:        September 11th Remembrance Walk, outside the PAC Center, on MCC's Brighton Campus, 1000 E. Henrietta Road; parking available in lot G.
Inclement weather venue: Stabins Physical Education Complex gymnasium, adjacent to lot G.
WHEN:           
8–9 a.m. Tuesday, Sept. 11
DETAILS:       Sponsored by the Brighton Campus Student Government Association and the Campus Activities Board, the event is free and open to the public.
After graduating from Wilson Magnet High School in Rochester, Dwight Moxley II studied electrical engineering technology at MCC. He joined the Army Corps of Engineers and later the U.S. Navy as an aviation electronics technician. He is a Realtor and owner of Documents Plus LLC, a real estate investment company.
Pastor David Stewart has been engaged in preaching and teaching ministries for over 35 years, including serving as "the voice" and program director of "The Answer" gospel radio program. He worked as a chemist and manager at Eastman Kodak Company for nearly 30 years and held leadership positions at Rochester Silver Works prior to his current role as senior vice president of business development at Cerion.
The September 11 memorial was dedicated in 2002 by MCC student leaders, whose efforts drew the support of other students, administrators and local businesses. The effort to design, build and dedicate a place of remembrance was driven by a desire to create a distinct place for reflection and healing within the community. MCC students annually organize this remembrance ceremony.

Media Contact:
Hency Yuen-Eng
Marketing and Community Relations
585-292-3063
hyuen-eng@monroecc.edu