MCC News
MCC Corporate College Launches Etsy Craft Entrepreneurship Program (06/22/2016)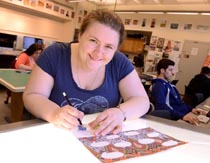 Hobbyists and creative entrepreneurs looking to sell products online in local and global markets will benefit from a new, six-part
Etsy Craft Entrepreneurship™ Program
offered by
MCC Corporate College
. Starting in July, the program provides hands-on education to help individuals learn best practices for establishing and running their own "Etsy shop," including business and ecommerce skills.
The Craft Entrepreneurship Program was launched at MCC Corporate College with a gift from
StoreMart.com
to the Monroe Community College Foundation. StoreSMART.com is a certified woman-owned, local business led by entrepreneurs Reenie and Stan Feingold (Brighton). The couple was inspired by their daughter, Sarah, who manages a successful Etsy shop,
Feingold Jewelry
. Through their support, the Feingolds want to help more American craftspeople receive the respect they deserve as creative professionals.
"Our community is filled with wonderful craftspeople who sometimes get overlooked as artists," said Stan Feingold. "We want to help craftspeople grow stronger and see their potential beyond a booth at a craft show. This course can help them turn their crafts into wonderful careers like our daughter did."
The sessions offered by MCC Corporate College include 14 hours of instruction time over five weeks (four weeknights and one Saturday) on topics such as building and marketing a brand, photography (needed for ecommerce), and growth strategies. After the final class, students return six weeks later for a "site review" to update their classmates and instructor on the progress on their Etsy shop.
Registration is available at
www.workforceforward.com/etsy
or by calling MCC Corporate College at (585) 292-3770. Sessions will run July 11-20 and Sept. 23-Oct. 21. The fee to register is $25. Classes will be held at MCC's Economic & Workforce Development Center, 1057 East Henrietta Road, Rochester.
Founded in 2005,
Etsy
is a marketplace where millions of people around the world connect, both online and offline, to make, sell and buy unique goods. Etsy designed its Craft Entrepreneurship Program to enhance and supplement microenterprise training programs in cities across the world. The key goal of the program is to deliver hands-on education that provides pathways to entrepreneurship for creative individuals in low income communities.
According to Etsy.com, there are currently 1.6 million active sellers on Etsy. The company is committed to using the power of business to strengthen communities and empower people. Annual gross merchandise sales reached $2.39 billion in 2015.
"It all starts somewhere. For creative entrepreneurs, it can now start at MCC," said Feingold.
The Monroe Community College Foundation seeks philanthropic investment to advance academic achievement, innovation, and the mission of excellence at the College. In 2014-2015, the MCC Foundation awarded nearly $1.17 million in scholarships to MCC students.
MCC Corporate College offers professional development and training solutions for people, businesses and organizations throughout Monroe County and is committed to preparing our region for the new economy. We're part of Monroe Community College, a leading educational institution that focuses on economic and workforce development.
Media Contact:
Rosanna Yule
Marketing and Community Relations
585-292-3024
ryule@monroecc.edu