Jessica Jackley and Reza Aslan (2018)
Jessica Jackley, entrepreneur, co-founder of KIVA (the world's largest microlending website), adjunct professor of entrepreneurship at the University of Southern California, and her husband Reza Aslan, a religious studies scholar and media commentator, whose books include: No god but God: The Origins, Evolution, and Future of Islam; Beyond Fundamentalism: Confronting Religious Extremism in the Age of Globalization; and Zealot: The Life and Times of Jesus of Nazareth, and founder of Aslan Media, an alternative media outlet for the Middle East and members of Middle Eastern diaspora. Aslan is a professor of creative writing at the University of California, Riverside.
LESLIE C. YOUNGBLOOD (2018)
Leslie C. Youngblood is an author currently teaching writing at Rochester's Writers and Books; her first middle-grade novel, Love Like Sky, will be published in 2018. She was awarded a Yaddo Residency (Sartoga Sprngs) in 2014. She will be speaking at the Downtown Campus on April 11 at noon in High Falls A&B (this event is free and open to the public).
Previous keynote speakers
Margot Lee Shetterly (2017)
Margot Lee Shetterly, journalist, author, and entrepreneur, whose book Hidden Figures has been a NY Times nonfiction bestseller, and the basis of a hit Hollywood movie.
David Eagleman (2016)
David Eagleman is a neuroscientist, author, and host of the PBS series The Brain with David Eagleman. Known for his erudite, engaging style, his unique and active exploration of ideas, and his ability to bring science discovery to everyday life, Eagleman prompts audiences to recognize the beauty of the brain, question what we perceive as reality, and re-think what we know about human nature. Eagleman holds joint appointments in the Departments of Neuroscience and Psychiatry at Baylor College of Medicine in Houston, Texas, where he directs the Initiative on Neuroscience and Law and the Laboratory for Perception and Action. His influential neuroscience books include the New York Times bestseller Incognito: The Secret Lives of the Brain, and Wednesday Is Indigo Blue: Discovering the Brain of Synesthesia. His novel, SUM, was named a Best Book of The Year by Barnes and Noble, has been translated into 28 languages, and inspired U2 producer Brian Eno to write 12 new pieces of music, which he performed, with Eagleman, at the Sydney Opera House. His forthcoming book, Livewired: How the Brain Rewrites Its Own Circuitry, presents his new theory of infotropism: why the fundamental principle of the brain is information maximization.
Nicholas Kristof (2015)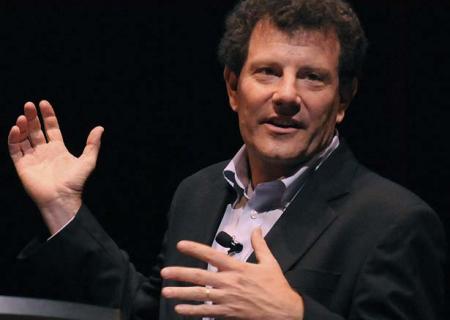 A two-time Pulitzer Prize-winning columnist for The New York Times, Nicholas Kristof is an extraordinary thinker, human rights advocate, and chronicler of humanity. A seasoned journalist, he has traveled the major roads and minor byways of China, Africa, India, and South Asia, offering a compassionate glimpse into global health, poverty, and gender in the developing world. Kristof has lived on four continents, reported on six, and traveled to more than 150 countries, all 50 states, every Chinese province, and every main Japanese island. He's also one of the few Americans to visit every member of the "Axis of Evil." A bestselling author, in his most recent book, A Path Appears, Kristof and his wife Sheryl Wudunn look around the world at people who are working to make it a better place, and show readers the numerous of ways this work can be supported. During his travels, he has had unpleasant experiences with malaria, wars, an Indonesian mob carrying heads on pikes, and an African airplane crash.
Neil deGrasse Tyson and Barbara Zelter (2014)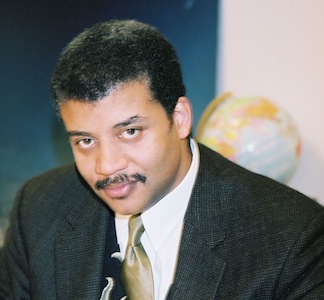 Neil deGrasse Tyson, the Frederick P. Rose Director of the Hayden Planetarium at the Rose Center for Earth and Space, released his tenth book in 2012, containing every thought he has ever had on the past, present, and future of space exploration: Space Chronicles: Facing the Ultimate Frontier. Tyson's professional research interests are broad, but include star formation, exploding stars, dwarf galaxies, and the structure of our Milky Way. In 2014, Tyson hosted a 21st century reboot of Carl Sagan's landmark television series, Cosmos: A Spacetime Odyssey, on the FOX and National Geographic networks. Neil deGrasse Tyson was, by all accounts, our most popular keynote speaker to date, delivering an evening address to a sold-out crowd in our largest venue, after which he graciously remained to sign copies of his book for a very long line of fans.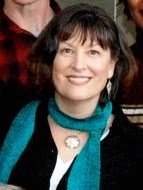 Barbara Zelter, Clinical Assistant Professor of Social Work at North Carolina State University in Raleigh, discussed a conflict-based style of community organizing and the role of ecumenical religious groups as actors for racial and economic justice in an invited lecture at DCC.
Robert Ballard and Arlette Miller Smith (2013)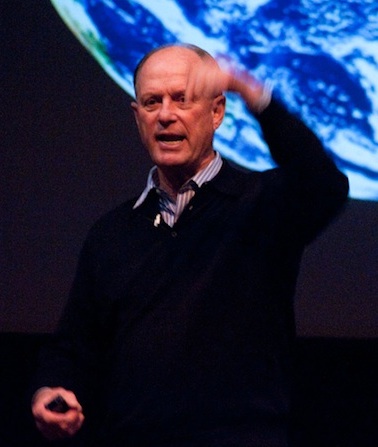 Dr. Robert Ballard, President of the Institute for Exploration in Mystic, Connecticut; Scientist Emeritus at Wood's Hole Oceanographic Institution; and Director of the Institute for Archaeological Oceanography at the University of Rhode Island, delivered the keynote address at the Brighton campus, fascinating a full house of attendees. His talk mentioned his new ship of exploration, the E/V Nautilus, operated by his Ocean Exploration Trust, which spends four to five months at sea each year and explored the Black Sea, Aegean Sea, Mediterranean Sea, and Atlantic Ocean in 2011, beaming back his exploration around the clock on Nautilus Live.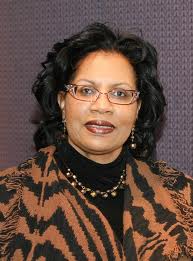 Dr. Arlette Miller Smith, professor in the Department of Interdisciplinary Studies and director of the African American Studies minor at St. John Fisher College, and founder and executive director of Rochester's African American Women's Gospel Choir, delivered an invited lecture at DCC.

Spencer Wells and Kwame Anthony Appiah (2012)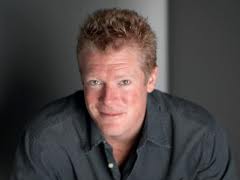 Spencer Wells, a National Geographic Explorer-in-Residence, leading population geneticist, and director of the Genographic Project from National Geographic and IBM, headlined Scholars' Day 2012. His fascination with the past has led him, scientist, author, and documentary filmmaker, to the farthest reaches of the globe in search of human populations who hold the history of humankind in their DNA. He brought his discoveries and experiences to an enthralled Scholars' Day crowd. By studying humankind's family tree he hopes to close the gaps in our knowledge of human migration.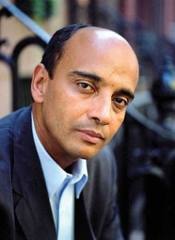 Kwame Anthony Appiah, the Laurance S. Rockefeller University Professor of Philosophy at Princeton University, 2012 recipient of the National Humanities Medal, and President of the PEN American Center, addressed the Damon community. His seminal book Cosmopolitanism, a moral manifesto for a world where identity has become a weapon and where difference has become a cause of pain and suffering, served as a basis for his talk. In intellectually stimulating language, Appiah challenged his overflow audience to look beyond the boundaries - real and imagined - that divide them, and to see their common humanity.
Barbara Ehrenreich (2011)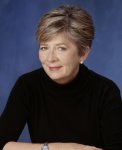 Journalist, historian, and social critic, Dr. Barbara Ehrenreich, author of over fifteen books including the million-copy bestseller, Nickel and Dimed: On (Not) Getting By In America, and the New York Times bestseller, Bait & Switch: The (Futile) Pursuit of the American Dream highlighted the 2011 Scholars' Day with a talk on her work from Nickel and Dimed.
Jared Diamond (2010)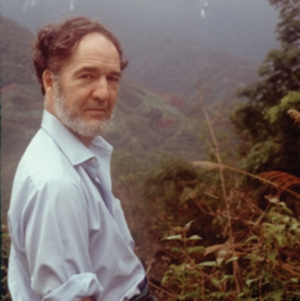 Author of the Pulitzer Prize-winning Guns, Germs, and Steel and Collapse, professor of geography at UCLA, Jared Diamond, the epitome of the celebrity scientist, thrilled a sold-out crowd during Scholars' Day 2010. His lecture tackled the giant questions: Why do some societies thrive and prosper, while others shrivel and die? How can humanity maximize the opportunity for human happiness, while saving the planet from ecological ruin and collapse? Are there lessons we can learn from other great civilizations who have grown to world dominance?
Alan Lightman (2009)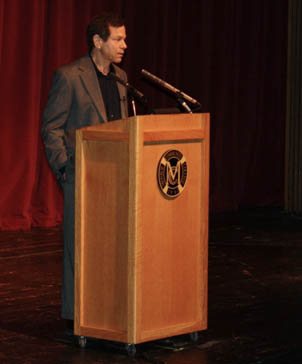 MIT scholar in residence, physicist, poet, and author of the New York Times bestseller Einstein's Dreams, Alan Lightman spoke at our inaugural Scholars' Day in 2009. Situated at the intersection of art and science, Alan Lightman's work boldly bridges the gap and inventively cross-pollinates between these two very different, but similar worlds. An award-winning novelist and a theoretical physicist, Lightman spoke elegantly about the creative and scientific processes, the role of intuition and imagination, the nature of time, the work of Einstein, the meeting of science and faith, his own boyhood dreams, and the sheer wonder and fragility of human nature.