Creative Arts
Welcome
The Creative Arts Committee at Monroe Community College would like to introduce you to another series of excellent programming.
We've worked hard to develop a student-centered learning initiative that combines a holistic approach to the arts with the educational mission of the institution. We cordially invite you, your family, and your friends to the many opportunities and programs provided!
Gallery Exhibitions • Theatre • Concerts • Playwrights • Authors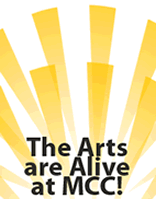 Events Brochure
Check out our 2018-2019 Calendar here! You can also find beautiful full brochures all over campus!
Location & Contacts
Brighton Campus
Student Life & Leadership Development
Building 3, Room 126
M - F 8:45am - 4:45pm
(585) 292-2060
Fax: (585) 292-3824