Meet Members of the Class of 2018!
MCC's newest graduates are poised to make an impact. Learn how these graduates will be applying their MCC education to the local workforce and to advanced studies at area colleges.The success of our graduates keeps MCC inspiring every day.
Jonathan "Jon" Dretto
In high school, Jonathan "Jon" Dretto wondered if "college graduate" was a title he would ever earn. "Since I was 12, I have focused on my career," said Jon, now a professional musician who was discovered at a young age by Paul Reed Smith Guitars. In 2016, he came to MCC to take his musicianship to the next level by studying music theory and other topics that now form a foundation for his life's work. He transformed into a scholar at MCC.
"Before going to MCC, I didn't know the difference between studying music performance (arrangements) and music business (marketing, contracts, bookings)," said Jon, who performs rock, country and blues with the Jon Dretto Band and the Tennessee Lights duo. "Now I do."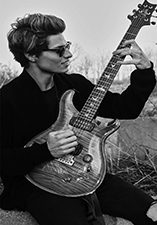 MCC was a perfect fit for Jon. "I didn't know if I wanted to make the financial commitment, or if I had the time-management skills to attend a four-year school." MCC enabled him to balance band rehearsal and performance and his classes and co-curricular interests. While at MCC, Jon joined the Holocaust, Genocide, and Human Rights Project to better understand and learn from history. Recently, he helped lead MCC's annual Yom HaShoah Commemoration and performed at MCC's Jazzfest.
A Wentworth Family Scholar, Jon will graduate with a music performance degree in June with no debt. He plans to transfer to Nazareth College to study music business so he can more independently manage his career and pursue new opportunities.
Richard Thomas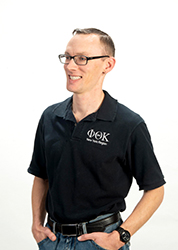 MCC has been like a second home for Richard Thomas, who will graduate in June with three academic credentials and immediately start his nursing career in Rochester. "I'm excited about finally earning the degree I've been seeking," he said, "but at the same time it feels weird walking around on campus knowing that these are the last few days I'm going to be walking these halls after having been here for five years."
A Navy reservist at the time, Richard came to MCC seeking a career change after a string of "dead-end jobs." His plan was to become a paramedic. While pursuing his emergency medical services certificate in 2013, "I realized how easy a lot of the skills and knowledge came to me. It made me want to take my medical and health care education further." He went on to earn a liberal arts and sciences-general studies degree with distinction in 2016 and now will be awarded a nursing degree. He will begin working as an operating room nurse at Strong Memorial Hospital.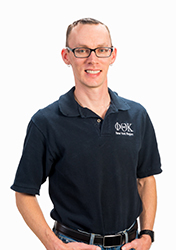 "The most significant thing I've learned at MCC is being able to believe in myself," said Richard, explaining that getting involved in student government, Phi Theta Kappa honor society, Veterans Club and Student Nurses Association helped him come out of his shell and develop leadership and teamwork skills—for life and work.
When Richard walks across the graduation stage, his two biggest supporters will be cheering: wife Melissa '12—"she has been a major rock for me being able to make it through the nursing program"—and their 4-year-old son.
Jessica "Jay" Rodriguez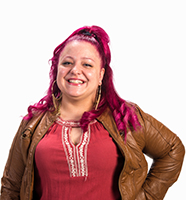 After her son was born, Rochester native Jessica "Jay" Rodriguez re-evaluated her life goals and enrolled in MCC, setting off to find her true calling. She eventually discovered it: "I want to be a teacher and work with children because nothing is more rewarding than knowing that you can inspire a student to want to learn." Through MCC's service-learning program, Jay had an opportunity to work with students at Nathaniel Rochester Community School for a year, assisting the teacher with a range of tasks from providing one-on-one tutoring to preparing a week's lesson plan. If she could share a piece of advice with a student starting out at MCC, she said, "Don't be discouraged if you don't know right off the bat what you want to do. Treat each class that you take like something that you truly want to learn. You will leave with something new."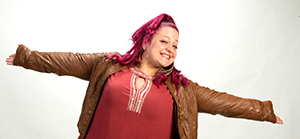 Jay said she is grateful to Janet Waasdorp, associate professor of education, who "has a passion for what she's teaching and never makes you feel like your opinions didn't matter." She will also never forget the time MCC provided monetary relief through a Dreamkeepers grant after she fell behind on her bills and faced having her electricity cut off in her home. "MCC is definitely there for the students, to make sure we succeed," she said.
A first-generation college graduate and a Phi Theta Kappa honor society member, Jay will earn a degree in liberal arts-childhood education from MCC in June and pursue her bachelor's degree at The College at Brockport. She also has a liberal arts-general studies degree from MCC.
Wayne Howard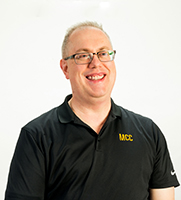 For years, Wayne Howard studied geospatial technology on his own in support of his business, Solara Concepts, and his work at Genesee RiverWatch. At a Genesee Finger Lakes GIS/SIG conference, MCC Assistant Professor of Geography Jonathon Little invited Wayne to explore MCC's new Geospatial Information Science and Technology (GIST) certificate program. Having already earned degrees from SUNY Fredonia and the University of Rochester, Wayne was reluctant to return to college, but realized how studying GIS would benefit him and his clients. He enrolled in 2016 and will be among the first to graduate from the program.
"At MCC, I confirmed some of my assumptions and learned better, more efficient ways to do things," said Wayne. "The experience enhanced my mapping and spatial analysis skills," so much so that he co-presented with Professor Little at the NYS GIS Association conference earlier this year. Clients are impressed with Wayne's additional knowledge and experience. He is looking to expand his use of GIS online mapping as a communication tool in watershed management and other ecosystem projects in New York's Great Lakes basin. Wayne presented this topic at MCC's Scholars' Day in April and also received a first-place award for his remote sensing research presentation.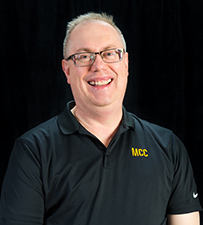 "GIS didn't really exist when I earned my first degree. I can't think of a day I haven't enjoyed MCC," said Wayne, who leaves his mark as a founder of the MCC Mapping Corps. MCC is one of only two community colleges to become a chapter of YouthMappers, an organization that cultivates student leaders to engage in humanitarian efforts and define their world by mapping it.
As an MCC graduate and life-long learner, Wayne will work to expand the GIS part of his business. Over the summer, he looks forward to teaching introductory GIS sessions to high school students in MCC's Upward Bound program. "Studying at MCC made my environmental studies come alive."
Jala McFadden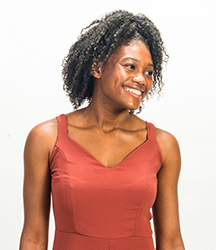 Jala McFadden takes great pride in what she's accomplished on and off the volleyball court. She served as a peer leader—actually a mentor, information resource and role model rolled into one—to new students at MCC's Downtown Campus. On the court, the women's volleyball player helped her team finish the 2018 season in the NJCAA Region III tournament semifinals and was named to the all-tournament team.
Jala will graduate with a criminal justice degree in June and transfer to Buffalo State to pursue a bachelor's degree. Her career aspiration is to become an FBI field agent. She credits her personal success to her professors—"they all want you to pass and want you to succeed"—singling out Adrian N. Smalls, assistant professor of law and criminal justice, for helping her develop as a writer and look at situations from different perspectives.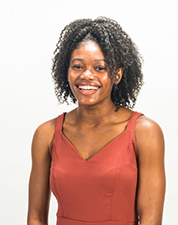 Of all her experiences at MCC, "the most significant and best thing that I participated in was taking the Mentors in Violence Prevention (MVP-MCC) training," she said, explaining that through the program, she learned to respond to sexual harassment, street violence and other forms of violence using bystander intervention strategies. "It really will help me in my field."
Imparting advice to new students, Jala said, "Focus on your classes because they all matter. And if you need help, there are so many resources for you. All you have to do is ask."
Katherine Porzi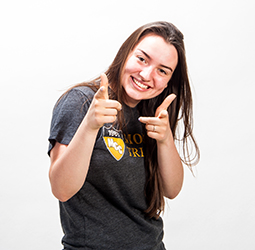 Shadowing professionals while in high school led Katherine Porzi to pursue a career as a sonographer. With MCC in her "backyard," she was attracted to the flexibility and affordability MCC offered, knowing she would ultimately pursue additional degrees. "With three older siblings attending SUNY or private four-year colleges, I wanted the flexibility to change my major at a significantly lower cost."
Katherine will earn a degree in liberal arts and sciences: general studies in June and transfer to Rochester Institute of Technology's prestigious Diagnostic Medical Sonography program. She will transfer as a junior thanks to guidance from MCC's Transfer Center. Katherine will take with her leadership experiences gained as a peer navigator and through her membership in the Phi Theta Kappa honor society and Campus Ambassadors, a Christian fellowship group.
"People don't know the quality that is at MCC and how dedicated professors are to their students." While at MCC, she received a Xerox STEM Scholarship for Dual Enrollment and a Phi Theta Kappa scholarship. An RIT Presidential Scholarship will help her transition in the fall.
"Unless you attend MCC, you don't understand what it has to offer," Katherine said. "Experiencing MCC has given me a new perspective of two-year universities. They offer leadership, academics, and quality at an affordable price and for that, I am grateful.
Richard Rodriguez-Santos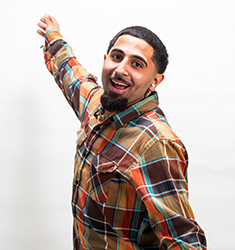 Richard Rodriguez-Santos has always been good with his hands. Growing up in Rochester, he would help fix the family car and do home repairs. After high school, he went straight into work as a full-time cook at a Mexican restaurant. "I was not the kid to go to college," he said. "After working for three years, you mature more and then you realize you definitely want to do more with your life." With an interest in getting into a specialty trade within the construction industry, he enrolled in MCC's Heating, Ventilation and Air Conditioning (HVAC) program in spring 2016.
"I didn't realize I was going to like school so much," Richard said, explaining that MCC instructor Bill Horton set high expectations for his students at the Applied Technologies Center and helped Richard develop self-discipline. "After my second semester, I liked it enough that I was thinking I'm going to finish school, get a job and come back to MCC to take my teacher's job because I just like the whole environment."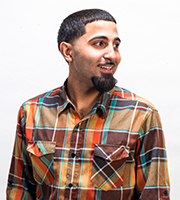 Richard will earn an HVAC degree in June—on top of the HVAC certificate he received last semester—and plans to work for the Rochester City School District.