The MCC Bookstore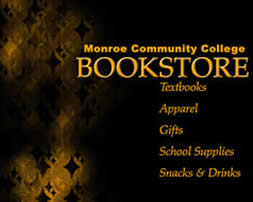 The Bookstores at Monroe Community College are operated by the MCC Association, Inc. Bookstore profits are used by the Association to fund projects and activities that enhance student life. These projects include the MCC Shuttle, baseball field renovation and upgrades, front loop project, various athletic and student leader scholarships, and the Child Care Center playground.
In addition to required textbooks, the Bookstores sell paperbacks and magazines, calculators, school and stationary supplies, software, sportswear, candy, greeting cards and other items.
Bookstore links and hours
Useful Information for the MCC Community!