Employer Visits to Campus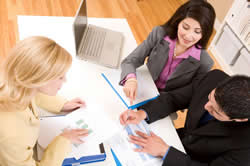 Employers often recruit on campus for their full-time, part-time and summer employment needs. These are great opportunities to interact with employers, submit resumes, complete applications or to network with employers in your field of interest.
The following employers have scheduled to recruit at MCC. You can connect with them on the 1st floor of the Campus Center in the Atrium unless noted otherwise.
Spring 2020
Employers are at tables on the 1st and 2nd floor in the Campus Center Atrium.
Please check often for updates.
Date

Time

Employer

Position(s)

January
1/28/20
10:00am - 2:00pm
Scribe America
Medical Scribes
1/29/20
11:00am - 2:00pm
YMCA
Before/After School Assistants, Early Childhood Teacher Assistants, Lifeguards, Camp Counselors, Camp EMT/Nurse
February
2/3/20
10:00am - 2:00pm
Spectrum
Customer Service Representative- Video Repair
2/4/20
10:00am - 2:00pm
Bloomberg Campaign
Petitioners and volunteers
2/4/20
10:00am - 2:00pm
U.S. Census Bureau
Census Takers
2/6/20
10:00am - 2:00pm
Bloomberg Campaign
Petitioners and volunteers
2/11/20
10:00am - 2:00pm
Department of Corrections
2/12/20
10:00am - 2:00pm
Scribe America
Medical Scribes
2/13/20
10:00am - 2:00pm
U.S. Census Bureau
Census Takers
2/25/20
11:00am - 1:00pm
WebWAH!
Digital Sales Representative
2/25/20
10:00am - 12:30pm
Department of Corrections
March
3/3/20
11:00am - 1:00pm
Ontario Exteriors
Installers
3/11/20
11:00am - 1:00pm
WebWAH!
Digital Sales Representative
April
4/2/20
11:00am - 1:00pm
Ontario Exteriors
Installers
May