On-Campus Interviews and Resume Referrals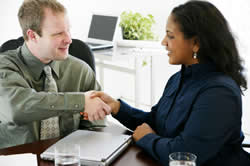 Employers can post jobs, collect resumes and conduct on-campus interviews with students for full-time employment. Feel free to sign-up for interviews if the position and geographic location interests you. Resumes may be reviewed and critiqued by counselors in Career Services prior to being submitted to the employer.
Remember to research the position and organization and dress professionally. See a complete list of on-campus interviews below.
Please check back often for updates. View a listing of other job search services offered by Career Services.
Don't see an opportunity that interests you?
Job Listings
Please check back often for updates.