Online Learning: Is It for Me?
Welcome
Welcome to Monroe Community College's Mini Course - Online Learning: Is It for Me? The College is committed to offering quality distance education. We've designed this short course about online learning and learning styles to provide an opportunity for you to experience distance education first hand and learn what it takes to be a successful student in an online environment before you take an online class. The structure of this course is similar to what you would experience if you were taking a "real" online course. However, you won't have direct interaction with an instructor but you will get a sense of what online courses entail. So, sit back, get ready, and have fun!
COURSE OBJECTIVES
In this course you will:
Have the opportunity to explore common myths about online classes
Learn the differences between this mode of instruction and traditional classroom instruction
Learn more about what it takes to be successful in an online environment.
Have the opportunity to test your technology capabilities in a new instructional environment
Be able to identify your learning style and develop strategies to enhance your online learning experience.
Course Map
Module 1 - What are online courses really like?
Module 2 - Learning Styles - How do I Learn?
Module 3- Strategies for Online Success
About the Author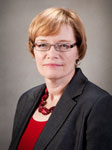 My name is Anne Hughes and this mini-course is designed to give you a taste of a real online learning environment. Currently I teach an online career development course and am a career counselor in the Career and Transfer Center at Monroe Community College. I give presentations to faculty, staff, and students about how to be successful in online courses and also how to advise students who want to take online courses. I hope you find this site informative and helpful as you begin your online journey. Please feel free to email me with feedback on this mini-course.
Contact Us
Brighton Campus
Building 3, Room 150
Hours: M-F 8 a.m. - 4:45 p.m.
(585) 292-3440
Fax: (585) 292-3855
virtualcampus@monroecc.edu