For Students & Parents
Do you qualify for free or reduced-cost lunch? If so, you could be eligible for MCC's Inspiring Every Day Scholarship.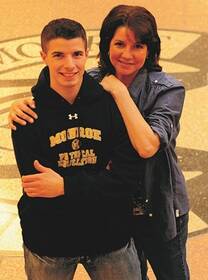 MCC's College Now program offers a great way to experience college while you're in high school. Here are some advantages and things to consider.
College Now courses at MCC are one-third the cost of regular MCC tuition but offer the same high-quality experience and number of credits as courses offered on-campus.
They can fulfill college degree requirements including prerequisites and electives.
Students receive grades and feedback throughout the course, eliminating high-stakes, end-of-the-year testing.
College Now courses allow you to explore your interests and show colleges that you are a motivated student.
Students who participate in College Now programs are more likely to graduate from high school and complete college degrees.
Before you register
It is important to know you are beginning a college transcript. Unless you withdraw before the stated deadline, courses will become part of your permanent academic record. Before students register we suggest the following:
Discuss the cost, workload and future college plans with your parent, guardian or high school counselor.
Be sure to familiarize yourself with MCC's policies and student responsibilities.
After you register, set up an MCC student network account
MCC will send a confirmation letter and email confirming your registration and instructions for setting up your student account.
Your MCC Network account (Email) is important because it is where you go to:
Check your grades
Register for future courses
About transferring credits
MCC is part of the State University of New York (SUNY) system. While the majority of colleges will accept MCC credits with a course grade of C or higher, we cannot guarantee that all credits will be accepted because each college sets its own transfer policy. If you are planning to attend a college other than MCC, it's a good idea to check with that college's transfer policy.