Electrical Technology
Welcome to the Electrical Technology program. Choose from the areas listed below for more details.
Program Overview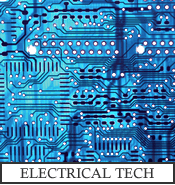 The Electronics curriculum provides the technical depth, breadth, and general education for a career in electronics design, manufacturing, sales or service. Individual attention and extensive hands-on laboratory experience provide a balance of the practical and theoretical aspects of electronics. This program is accredited by the Engineering Technology Accreditation Commission of the Accreditation Board for Engineering and Technology (ETAC/ABET). The A.A.S. ELT graduate can choose to go to work, or to transfer to the junior year of a Bachelor of Engineering Technology program.
MCC's Electronics curriculum is designed to provide you the technical depth and general education needed to support a career in the dynamic field of electronics. You will spend considerable classroom hours learning how to analyze and design a wide variety of electronics circuits and systems You will also log many hours of laboratory time, during which you will work with state-of-the-art industrial grade equipment.
If you would like any further information on the Electrical Technology program you may contact Prof. Bill Yanklowski at (585) 292-2692, by email at wyanklowski@monroecc.edu or call the Engineering Technologies Dept. at (585) 292-2002.