Optical Technology
Welcome to the Optical Technology program. Choose from the areas listed below for more details.
We currently offer both day and evening classes leading to a degree in Optical Systems Technology and we also can assist you in formulating flexible schedule if you are unable to attend full time. Please come in and see our state-of-the-art facilities and talk with our faculty. Feel free to call the Optics Department at (585) 292-2002 for details, academic information or to arrange a visit.
Optical Systems Technology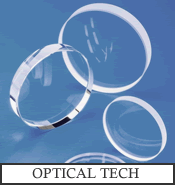 In 1963 Monroe Community College (MCC) became the first school in the nation to create a two-year degree program (A.A.S.) for training technicians to work in the optical industry. Today, MCC has received national and international recognition for its comprehensive optics program which includes manufacturing and electronics, design and function of optical components, optical instruments, and experimental techniques. Courses currently offered within the program deal with geometrical optics, optical instruments, metrology, optical fabrication, wave optics and applications, fiber optics, electro-optics, laser applications and holography and photo/imaging science. The courses in the curriculum are designed to meet the needs of both the people who have no previous experience in the field and those already employed who wish to upgrade or improve their skills.
Heavy emphasis is placed on laboratory skills, and a minimum of half of the total course time is devoted to implementing experimental techniques, and strong emphasis is placed on a team approach for problem solving.
What is an Optical System Technician?
Optical systems technicians work with scientists and engineers in research, development, design, manufacturing and quality control. They perform testing and evaluation of optical components and systems. Optical systems technology is important to telecommunications, digital imaging and photography, automotive tracking and control, laser applications, fiber optics, and robotics vision systems. Every course in the program gives the student an opportunity to study, understand, and operate the precise equipment and instrumentation used in the optical industry today.
Partnering with Local Industry and Universities
Monroe's ongoing interaction with industry not only produces an up-to-date program that remains responsive to current needs, but reflects Rochester's long history of university-industry partnerships. A highly educated optics workforce is a key element in the Rochester economy, which relies on MCC's ability to educate optical technicians in tandem with Rochester Institute of Technology and the University of Rochester which provide bachelor and graduate education in imaging and optics. Optics faculty also provide industrially relevant training in applied optical technology to such firms as Xerox, Eastman Kodak, Corning Tropel, Optimax and Melles Griot in their facilities.
Employment
MCC graduates are currently employed both locally and nationally by such companies as: Eastman Kodak, Xerox, Bausch and Lomb, Texas Instruments, Melles Griot, ITT, Coherent, Lockheed Martin, Spectra Physics, IBM, Corning and Lawrence Livermore National Laboratory. Employment opportunities for MCC's optics students have historically outnumbered the available pool of graduates.
Transfer Opportunities
Many graduates of the optics program have continued their education at major universities such as RIT, University of Rochester, University of Arizona and received their bachelor's degrees in such fields as optics, imaging, electronics, physics, mathematics, and computer science. Many times, employers have paid for this additional education. Students planning to continue a bachelor's degree program immediately upon graduation are advised to discuss their curriculum plans with an optics advisor.
For More Information
If you would like any further information on the Optical Technology program you may contact Alexis Vogt at (585) 292-2685, by email at avogt4@monroecc.edu or call the Engineering Technologies Department at (585) 292-2002.