Save for Success
SAVE FOR SUCCESS is an exciting five-year venture between ESL Federal Credit Union, Monroe Community College, the Monroe Community College Foundation, and Hillside. The program allows eligible students from the Rochester and Finger Lakes region a chance to invest in their futures. Students who save up to $375 will have those savings matched 8-to-1 for a tuition grant of $3,000 at MCC. If you qualify, you will also receive one-on-one financial and life skills counseling from a professional mentor. This program can help you pay for tuition, books, and other educational expenses. If you're willing to work, SAVE FOR SUCCESS is for you!
How it works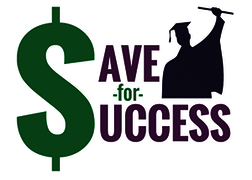 Apply online and schedule an intake interview
Open account at ESL
Complete financial literacy training
Complete savings goal of $375 within 18 months (minimum of 6 months)
Meet periodically with program Navigator
Receive 8-1 match funds (up to $3,000) for tuition fees, books and supplies at MCC
Save for Success is made possible by a grant from the U.S. Department of Health and Human Services and private philanthropic support. For further information or to apply, please contact the MCC Foundation at (585) 685-6020.