Getting Started
NUR 111: FUNDAMENTALS OF NURSING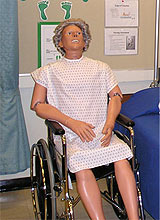 Consult the Class Schedule available on the college's website for days, times, and location.
Consult the MCC Academic Calendar for specific dates when each semester begins.
It is a good idea to find your lecture room prior to the first class day. Parking during the first two weeks of the semester is hectic so plan to arrive early. Two hours of lecture will be presented the first day of class.
The reading assignments will be found in the NUR 111 Course Outline for Week #1, for lecture, conference, and clinical topics.
Please complete the Informal Writing Exercise #1 located in the NUR 111 Course Outline. Bring this completed exercise to your first clinical session.
Please note that the Nursing Learning Center (NLC) opens to nursing students on the First Day of Classes, and closes at the end of each semester. Specific open lab hours will be posted on the NLC doors.
NUR 111 CONFERENCE/CLINICAL LABORATORY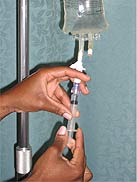 Each student has one three hour conference and one six hour clinical laboratory session each week.
All conferences are held in the Nursing Learning Center (NLC), Room 9-219.
For the first two weeks, all clinical lab sessions will be held in the NLC. All clinical sections will be held from 7:00am-1:00pm.
PHYSICAL EXAMINATIONS
Physical exams are required within the year before beginning NUR 111. New York State Health Department Regulations prohibit anyone from caring for patients without having met certain health standards and immunizations. The necessary forms will be provided at registration.
Schedule an appointment with your physician to ensure that all forms are submitted on or before January 15th for students entering NUR 111 in the Spring Semester, and August 15th for students entering NUR 111 in the Fall Semester. If the forms are not received by Health Service by this date, you may lose your place in NUR 111.
NUR 110: Foundations of Nursing
REQUIRED TEXTBOOK
Rider Ellis, Janice and Love Hartley, Celia. Nursing in Today's World: Trends, Issues and Management. 10th edition. Lippincott Williams and Wilkins, 2012.
All NUR 110 Sections must purchase:
NUR 110: Foundations of Nursing Course Outline booklet, Rochester: Monroe Community College.
UNIFORMS
Student uniforms must be purchased through Uniform Village (UV Image Experts) at Jefferson Plaza. Any questions should be directed to the Nursing Department Office at 292-2034; problems are to be directed to UV Image Experts/Uniform Village at 424-1550. A deposit is required when you place the order. Information about the required MCC uniform is provided in a handout students receive at the time they register for their nursing courses.
INSURANCE
Students must carry professional liability (malpractice) and accident insurance. Each semester, these premiums are included on the tuition bill. Students must also have active Health Insurance for their entire time in the nursing program.
CARDIOPULMONARY RESUSCITATION (CPR)
In order to participate in clinical laboratory sessions, all students in the nursing program must maintain current CPR certification for infant, child, adult, two person rescuer and resuscitation mask (cardiopulmonary resuscitation/certification for the professional rescuer). Certification must include the Automated External Defibrillator (AED) component. Certification by the American Red Cross (Professional Rescuer), or American Heart Association (BLS Provider), are accepted. Each student must bring a copy of current certification to the Nursing Department Office no later than January 15th for students entering NUR 111 in the Spring Semester, and August 15th for students entering NUR 111 in the Fall Semester. Recertification is necessary by the expiration date on the card or letter. If there are problems regarding CPR certification contact the Nursing Department secretary, 292-2034.
TUITION PAYMENT
If tuition is not paid by the due date specified on the bill, the student is dropped from all courses, and the seat is given to another student. If there are problems regarding payment, contact either the Student Accounts Office at 292-2232 or the Financial Aid Office at 292-2050 before the due date to discuss arrangements for paying the bill.
CHANGE OF PLANS
If you decide NOT to attend classes this semester after you have registered, please notify the Department of Nursing by telephone, 292-2034 AND the Admissions Office in writing.
ADDITIONAL COMMENTS
Related to the high level of advance preparation required to provide safe nursing care to assigned clients during clinical laboratory, it is highly recommended that students who are employed NOT schedule work hours the evening before their clinical day(s).