Aircraft Rescue & Fire Fighting Courses
Aircraft Fuel Spill Fire Fighting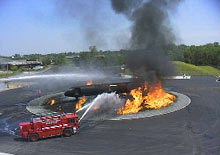 Enhance your skills utilized to extinguish large aircraft fuel spill fires in this one day course. Students will utilize two crash rescue vehicles during this course along with hose line advancement. The classroom and live-fire session will make you believe you are there.
Specialized Aircraft Fire Fighting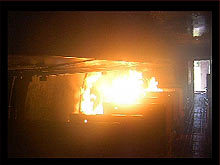 Upgrade your knowledge and proficiencies for fires involved onboard an aircraft. Fire fighter will learn correct and effective ways to extinguish fires in the flight deck, wheel-brake systems, passenger cabins, engines, galleys and small fuel spill fires. There's no spray and play here.
Basic ARFF Class
This 40-hour course is designed to develop the skill benchmark all airport firefighters must acquire to handle onboard fires, crash incidents and dangerous goods incidents by learning and utilizing basic rescue techniques, fire fighting agents and apparatus operations. It doesn't get any better that this!
Advanced ARFF Class
This 40-hour course is designed to take the ARFF firefighter to the next level. Your skills will be enhanced, your determination will be tested and you will leave this class with the satisfaction that you are the best you can be. Topics will include rescue and extrication, motor vehicle and structural fire suppression, utilization of twin fire fighting agent, and advanced aircraft fire suppression techniques.