MyPsychLab
For PSY 101
MyPsychLab is an online study tool designed by our textbook publisher. It was new to the 2016-2017 school year. To access MyPsychLab you will need to have purchased an access code (which comes with all new book purchases made through the bookstore; it is not included in used book purchases). MyPsychLab includes an online copy of the textbook, an audio version of the textbook, a unit quiz for each unit, and many video clips and demonstrations to aid your understanding of the course material. The unit quizzes are a good way to measure your preparation for the actual tests.
You can access MyPsychLab through Blackboard or from this website. Log into Blackboard, select your PSY-101 course, and you'll see a "MyPsychLab" link on the left-hand side as in the image below (highlighted here):
Or you can log in directly to MyLabsPlus for access to MyPsychLab. A link to this login page is provided on the home page of this web site as well.
The MyLabs login page looks like this:
Log in using your FULL M-number as Username and M# with mcc at the end (e.g., M00000000mcc) as Password.
When MyLabsPlus opens, you'll see a similar screen with "Enter MyPsychLab" as one of the options.
Note that you might be prompted to turn off popup blockers. You will have to disable popup blockers for MyPsychLab functions to work, and instructions are provided on the page. If you have problems with the quizzes, try clearing your web browser's browsing data and then log back in.
First time logging in: You'll need a valid access code to use MyPsychLab, so have your access code (from your new textbook purchase) available the first time you use this feature.
If you do not purchase a physical textbook you may purchase an access code when you first log in to this feature for $95, which includes full online access to the textbook. You'll need a debit/credit card for this transaction. There is also a two-week free trial period available to all users.
When you click on the "Enter MyPsychLab" link, and you have gone through the login procedure with your access code (first time only), you'll eventually see the units organized as folders:
Simply click on the Unit 1 folder to get started. You'll see folders for each chapter as well as a link for the study guide for unit 1 and the practice quiz for unit 1.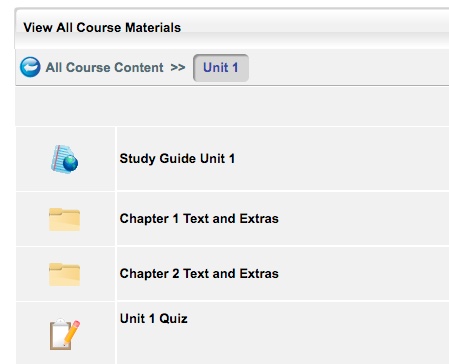 Inside each chapter is a link for the textbook content, an audio textbook option (listen to the book being read to you), and a folder of "Media links" that is full of useful videos and demonstrations. Use these as much as you please. Nothing in here is required, but we want you to do well on the formal tests, so use MyPsychLab to the max.