Model UN
Welcome to our world
Have you ever wondered what it would be like to work in a global arena and make decisions that not only affect you but entire nations? Have you ever been troubled by world conflict and wondered if your thoughts and opinions could make an impact to make things better? Then the Model United Nations Simulation Program may be for you!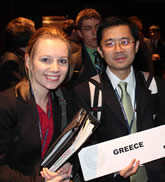 The Model UN Program at MCC is a four credit-hour class (POS 234) which satisfies a Social Science or General Elective. This unique program and course is a collaboration between the Student Life and Leadership Development and the Anthropology, History, Political Science and Sociology Department.
Throughout the year selected students receive training, preparation and the life-skills necessary to participate in the conference. The enrollment process is two-fold (see also How to Apply). Download our printable application, or apply online.
First, students participate in the application process in the fall semester, which includes informational sessions and an extensive interview by a selection committee. You should know that this program is highly competitive, and only twelve candidates are chosen yearly to participate.
After being selected, students enroll in POS 234, which is offered during the spring semester. The culmination of the class preparation is attendance at the National Collegiate Conference for the Model UN in New York City. The entire program is challenging, demanding, and will definitely expand your horizons.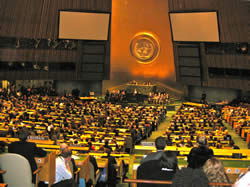 Find out how you can become involved in this exciting adventure by browsing this web site, listening to student testimonials, and/or visiting the Office of Student Life and Leadership Development in Building 3, Room 126. Your world is waiting for you...