MCC News
Over Half of 2018-19 MCC Graduates Have Returned to College to Complete Degrees (05/30/2019)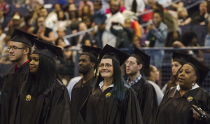 ROCHESTER, N.Y. – May 30, 2019 –
For many members of Monroe Community College's class of 2019, the path to graduation included stops and starts.
Of the 2,100 MCC students graduating on Saturday at the Blue Cross Arena at the War Memorial, approximately 55 percent started their college education, took a semester or more off, and later returned to college to complete their studies. They are students like:
-- Christian Guity, who has MCC's Educational Opportunity Program to thank for paving the way for his personal growth and success. He will earn a human services degree and plans to transfer to University at Buffalo.
-- Adam Pfund, who returned to college to complete his first degree when he was employed full time. He came back to MCC to pursue a second degree after he lost his job. He will receive a precision machining degree and begin a career in advanced manufacturing.
-- Tatyana Davis, a single mother who dropped out of college to raise a young family. She relied on subsidized child care at MCC's Richard M. Guon Child Care Center for her 6-month-old son so she could attend MCC. With a health information technology degree in hand, she is ready to start her career.
The most popular fields for returning students in the class of 2019 are:
1. Liberal arts and sciences-general studies
2. Business administration
3. Nursing
4. Human services
5. Criminal justice
Media Contact:
Hency Yuen-Eng
Marketing and Community Relations
585-292-3063
hyuen-eng@monroecc.edu