MCC News
MCC Joins Dinolfo in Announcing Launch of Property Maintenance Certification Program (05/11/2019)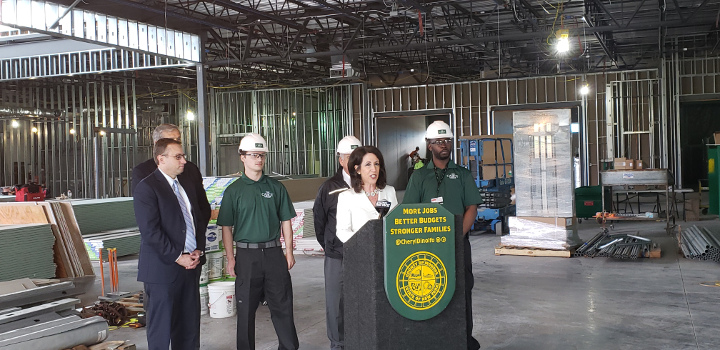 11 participants in inaugural educational and training program funded by LadderzUP
Monroe County Executive Cheryl Dinolfo and Monroe Community College (MCC) Vice President Dr. Todd Oldham this week announced the launch of a Property Maintenance Certification Program, a new consortium funded by LadderzUP and powered by MCC. Eleven individuals are participating in the 13-week inaugural Property Maintenance class, sponsored by three companies: Gallina Development Corp., The Cabot Group, and Grand Atlas Properties.
"One of our top economic development priorities is to connect interested individuals with jobs that are available right here, right now," said Dinolfo. "We are thrilled to expand certification programs funded by LadderzUP in order to better meet the needs of local job seekers and employers. We're so proud of our work with MCC, our local employers, and most importantly, the 11 students who are participating in our inaugural Property Maintenance Certification Program."
In the Property Maintenance Certification Program, participants receive classroom instruction through MCC on Monday through Thursday and receive hands-on skills training at a job site on Friday. Participants develop basic construction skills like HVAC, plumbing, electrical, use of power tools, flooring, masonry, and more. Four participants are sponsored by the local employers to enhance their skills, while the seven others will complete the program and work with the County to obtain employment.
"MCC responds to the needs of the regional workforce with innovative solutions, like the Property Maintenance Certification Program, to help businesses, industries and individuals maintain a competitive edge," said MCC President Anne M. Kress. "With Monroe County's support through LadderzUP and our partnerships with employers, we're opening doors of opportunity for individuals seeking careers in the skilled trades."
LadderzUP is a Monroe County program, powered by MCC, that creates custom, accelerated job-training skills development and certification programs that prepare individuals for immediate career opportunities. Also focused on company-specific programs, the Property Maintenance Certification Program is another example of the consortium-based LadderzUP model. The first Certified Nurse Assistant program, another LadderzUP consortium, finished in April.
"
LadderzUP is a program that will provide a chance for local people that have an interest in working in the Property Maintenance field but don't currently possess the needed skills or path to access it
,"
said Bruce Hunt
,
vice president of Facilities Management for The Cabot Group.
"
I have a passion for this type of training as I started in the Kodak apprentice program 39 years ago and it gave me a career path that has been challenging and rewarding. This is a way to give back and a way to help establish a strong maintenance workforce in Rochester.
"
All programs meet curriculum standards set by the New York State Education Department.
Photo caption: Monroe County Executive Cheryl Dinolfo is joined by, from left, Dr. Todd Oldham, vice president of economic and workforce development and career technical education at MCC; Jeff Adair (partially hidden), chief economic development officer for Monroe County; and representatives of The Cabot Group.

Media Contact:
Hency Yuen-Eng
Government and Community Relations
585-292-3063
hyuen-eng@monroecc.edu