MCC News
MCC to Safely Reopen Campuses in August (07/15/2020)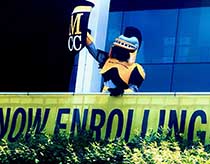 State-approved plan builds toward fall semester start on Wednesday, Aug. 26
Following the recent state approval of its fall reopening plan and
operating principles
, Monroe Community College will safely resume on-campus operations and activities in early August. The college's plan meets New York state and Monroe County requirements for offering some face-to-face instruction and services, including residential life programming, for the fall 2020 semester. Approved by the State University of New York, the plan covers the phased restart of on-campus operations, capacity of campus classrooms and spaces, flexible teaching and learning options, as well as health, safety and disinfection protocols.
Reopening will occur in phases starting today through the spring semester. This fall, students will have a variety of distance-learning options, with more than 200 courses and labs offered in-person at the Brighton Campus, Downtown Campus, Applied Technologies Center, and Public Safety Training Facility. Core services—including Admissions, Financial Aid and Advising—will continue to be delivered remotely through the fall semester; representatives will also be available to meet with students on campus by appointment only beginning in August. The fall 2020
academic calendar
remains unchanged and runs from Aug. 26 to Dec. 16.
The College's reopening is guided by three fundamental principles: 1) the health, safety and well-being of students and employees; 2) the college's core teaching and learning mission; and 3) responsiveness to changing conditions and community needs and expectations.
"With support from community leaders and partners, Monroe Community College students, faculty and staff have demonstrated resiliency and creativity in response to the significant challenges caused by the pandemic," said MCC Interim President Katherine P. Douglas, Ed.D. "Work groups comprising more than 80 college leaders, faculty and staff have developed operating principles to enable our safe return to campus for the fall of 2020. Student leaders will also be engaged to ensure MCC continues to meet the needs and expectations of students and their families."
MCC will implement policies and procedures to reinforce the use of face coverings, social distancing, and hand washing and sanitizing. Face coverings, health screenings, and an MCC ID are required to gain entry to campus. A secure and confidential online
student health portal
is available to support student health and wellness. Telehealth services continue; on-campus consultations with MCC Health Services staff will resume on Aug. 10 by appointment only.
Classrooms and learning spaces will be adjusted to reduce density. Limited access to technology resources located in MCC libraries/learning commons will be available by appointment only. Dining, housing and residential life services will be offered in ways to maximize social distancing. Students may purchase books and materials online for curbside pickup; limited in-store hours will be announced. A reduced number of student-residents will move to campus over a two-week period beginning Aug. 10. Guests are not allowed in the residence halls until further notice.
Procedures will address on-campus quarantine and care for ill students, especially those who test positive for COVID-19. MCC will also offer special considerations for students and employees who are particularly vulnerable to the coronavirus.
In order to minimize exposure to the coronavirus, MCC's fall 2020 athletics season is cancelled. This includes practice and competition for soccer, volleyball, basketball, and swimming/diving as well as the suspension of all non-traditional practice and competition involving baseball, lacrosse, and softball.
Decisions regarding the return of basketball and swimming in the spring, as well as other traditional spring sports, have not been made at this time and will be based on NJCAA and SUNY guidelines and current conditions in regards to the pandemic.
"The connections students and other learners make with our faculty, staff and their peers are key to MCC's ability to educate and inspire," said Douglas. "We are committed to offering these opportunities in a variety of ways to match our students' different learning styles and preferences."
Student supports and programs, including tutoring, counseling services, emergency grant programs, scholarships, and student-parent resources will continue to be available both remotely and in-person by appointment.
Operating principles—available on MCC's website,
www.monroecc.edu
—will continue to evolve. Plans are subject to change due to new information, guidance and/or direction from New York state and Monroe County.
Media Contact:
Rosanna Yule
Government and Community Relations
585-292-3024
ryule@monroecc.edu