MCC News
MCC Appoints Gretchen Wood as Chief Advancement Officer (08/30/2017)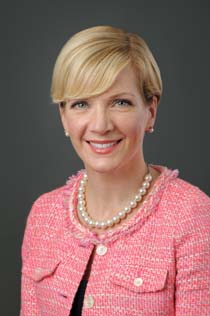 Diane Shoger retires from MCC Foundation post, establishes $250K scholarship fund
Monroe Community College appointed Gretchen Wood (
pictured at right
) as chief advancement officer and executive director of the
Monroe Community College Foundation
. Her appointment begins on Sept. 1 and coincides with the retirement of Diane Shoger who served as the Foundation's executive director since 2008.
Wood brings nearly 20 years of experience in the nonprofit field, including six years as the Foundation's director of donor engagement. She serves on the Council for the Advancement and Support of Education District II Board of Directors and is president-elect of the Association of Fundraising Professionals Genesee Valley Chapter. She earned her Certified Fundraising Executive (CFRE) certification in 2014 and holds a master of public administration degree with a concentration in nonprofit management from the College at Brockport and a bachelor of arts degree in English from Syracuse University.
"It is a privilege to work with the MCC Foundation's dynamic board of directors to make a meaningful difference in our community," says Wood. "Working together, we will focus on removing financial barriers to achievement for our students and on identifying new opportunities to support their success."
In honor of her retirement, Shoger and her husband Timothy Coughlin announced a pledge of $250,000 to the MCC Foundation to establish the Starfish Scholarship Fund. The endowed fund will benefit MCC students who are in urgent need of financial support and face atypical situations that other scholarships do not address. The scholarship's name is inspired by the book "The Star Thrower" by Loren Eiseley and will enhance the College's ability to address unexpected financial challenges that prevent students from completing their education.
Under Shoger's leadership the Foundation grew its endowment to more than $12 million and annually awarded more than $1 million in scholarships to MCC students for the last four years.
"Through my work at the Foundation I learned there are so many starfish on the beach," said Shoger, making the analogy to the number of MCC students who seek scholarship support. "Tim and I are grateful for the opportunity to do what we can to help people graduate from college and pursue a better life."
About Certified Fundraising Executives (CFRE)
Individuals granted the CFRE credential have met a series of standards set by CFRE International which include tenure in the profession, education, demonstrated fundraising achievement and a commitment to service to not-for-profit organizations.
###
The Monroe Community College Foundation is a 501(c)(3), nonprofit organization that seeks philanthropic investment to advance academic achievement, innovation, and the mission of excellence at Monroe Community College. To learn more, go to www.monroecc.edu/go/foundation.

Media Contact:
Rosanna Yule
Marketing and Community Relations
585-292-3024
ryule@monroecc.edu