MCC News
MCC Honors Sandra Parker and John Summers for Generosity, Leadership in Support of Local Students (11/16/2017)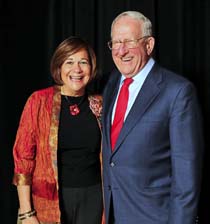 This evening, the
Monroe Community College Foundation
will present its 2017 Salute to Excellence award to Sandra Parker and John "Dutch" Summers (pictured at right) for the couple's philanthropic support of Monroe Community College and for inspiring local high school students to pursue higher education. Parker and Summers will accept the award before 340 business and community leaders at the Foundation's 28th Annual Salute to Excellence dinner at the Kodak Center.
Prior to her retirement, Parker was the president and CEO of Rochester Business Alliance. After serving on the MCC Foundation Board of Directors from 1999 to 2014, Parker was appointed to the MCC Foundation Council where she continues to help guide the future of the Foundation. She is also a founding member of the Foundation's STAR Power Women's Giving Initiative that has raised $380,000 to date in support of single parents who attend MCC.
A generous community philanthropist, Summers is the chief executive officer of Graywood Companies, a Rochester-based holding company involved in residential and commercial real estate in the United States and abroad. Summers previously led Jasco Tools, Inc., a global provider of standard and specialty cutting tools, custom components and heat treatment services. In addition to MCC, his philanthropy has touched lives through CDS Monarch's Warrior Salute Veteran Services, Junior Achievement, Hillside Work-Scholarship Connection, Rochester Institute of Technology, Rochester Literacy Movement, United Way of Greater Rochester and more.
In 2016, the Summers Foundation pledged $300,000 to the MCC Foundation to establish the Summers UPrep Scholarship to inspire graduates of the University Preparatory Charter School for Young Men to continue their education in precision machining or construction technology at MCC and, ultimately, pursue a rewarding career.
Michael Weed, Graywood Companies, serves as the honorary chair for the event. Sergio Esteban, LaBella Associates, D.P.C. serves as chair of the MCC Foundation's Governance Committee and as the event chair. Gold sponsors include Avangrid Foundation and Rochester Gas and Electric Corporation, Corning Incorporated, Dixon Schwabl, Eastman Business Park, and the Summers Foundation.
An honored Rochester tradition, the Salute to Excellence award reflects the recipient's commitment to public higher education and the community. Past recipients of the Salute to Excellence award include JPMorgan Chase & Co., Greater Rochester Health Foundation, Xerox Foundation, Robin '80 and Timothy '80 Wentworth, and the Corning Incorporated Foundation.
The event reception will begin at 5:30 p.m.; the dinner and award ceremony will begin at 6:30 p.m.
The Monroe Community College Foundation seeks philanthropic investment to advance academic achievement, innovation, and the mission of excellence at the college.
Media Contact:
Rosanna Yule
Marketing and Community Relations
585-292-3024
ryule@monroecc.edu