MCC News
Business, Community Leaders Inducted into MCC Alumni Hall of Fame (11/17/2017)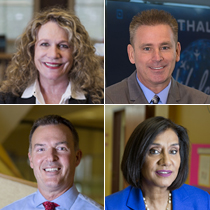 (Pictured at right, clockwise) Barbara Deane-Williams '75, Christopher Collins '79, Gladys Pedraza-Burgos '91 and Joseph Wesley '83 were recognized for professional and civic leadership and continued connection to MCC
Monroe Community College celebrated the success of four inspiring alumni at last evening's 28
th
annual Salute to Excellence dinner at the Kodak Center. Christopher Collins '79 (Merritt Island, Fla.), Barbara Deane-Williams '75 (Rochester), Gladys Pedraza-Burgos '91 (Rochester), and Joseph Wesley '83 (Greece) were inducted into the MCC Alumni Hall of Fame and honored for professional achievement, support of MCC, and giving back to their respective communities. The event was hosted by the
Monroe Community College Foundation
.
Collins is chief operating officer, InFlyt Entertainment and Connectivity, Thales. He earned an associate in applied science degree in business with a focus on marketing at MCC, followed by a bachelor's degree in marketing from the Florida College of Business and Finance. His career experience includes working for Continental Airlines and Frontier Airlines, both based in the United States, and Wizz Air, based in Hungary. With more than 30 years of domestic and international aviation experience, Collins led two successful airline start-ups, including JetBlue Airways. In his current position, he is responsible for all strategic and operational initiatives as well as the launch of the company's European business operation. He gives back to his local community through his support of Habitat for Humanity, Rotary Club and the chamber of commerce.
In August 2016, the Rochester City School Board of Education unanimously appointed Deane-Williams as the superintendent of schools for the Rochester City School District. She earned an associate of applied science degree in liberal arts and sciences from MCC and holds a bachelor's degree from Hobart and William Smith College, a master of education degree from the University of New Hampshire, and a certificate of advanced study from The College at Brockport. She has completed doctoral work in teaching and leadership at Syracuse University. Deane-Williams began her career in special education in Massachusetts before returning to upstate New York where she served in counseling and leadership roles in six school districts, including the Greece Central School District. She is a member of the State Council of School Superintendents and serves on the State Commissioner of Education's Advisory Council. She gives back to MCC through strategic partnerships that put students on the pathway to college.
Pedraza-Burgos serves as the chief operations officer for Ibero-American Action League where she is responsible for the administration and day-to-day operations of all departments, programs, activities and resources. The first person in her family to earn a college degree, Pedraza-Burgos earned an associate in applied science degree in liberal arts from MCC, followed by a bachelor of science degree in communication studies from The College at Brockport and a master of science degree in counseling and human development from the University of Rochester's Warner School of Education. Prior to Ibero, she led the Rochester City School District's department of Youth Development and Family Services and held leadership positions at the University of Rochester. She gives back to MCC by partnering with MCC on recruitment-related efforts, including the annual Ibero Scholar's Award and Gala.
Wesley is the director of strategic workforce development for Wegmans Food Markets. Wesley earned his associate degree in accounting at MCC and a bachelor's degree in accounting from St. John Fisher College before beginning his career at Wegmans more than 30 years ago. His career at Wegmans includes roles in accounting, store management, construction, procurement, and manufacturing. He serves as the lead Wegmans representative on the Rochester-Monroe Anti-Poverty Initiative at the United Way of Greater Rochester. He also serves on Governor Andrew Cuomo's Finger Lakes Regional Economic Development Council where he co-chairs the Pathways to Prosperity workgroup that promotes skill development, job growth and efforts to reduce poverty in the region. Wesley is also a member of the Education, Employment, and Training Committee of the U.S. Chamber of Commerce as well as the Workforce Investment Board for Monroe County.
The MCC Alumni Hall of Fame was established in 1992 to honor the outstanding achievements of MCC graduates for their professional success, service to the community, and support of MCC and the MCC Foundation. Including the newest inductees, there are 99 members of the hall of fame.
The Monroe Community College Foundation seeks philanthropic investment to advance academic achievement, innovation, and the mission of excellence at the College.
Media Contact:
Rosanna Yule
Marketing and Community Relations
585-292-3024
ryule@monroecc.edu