MCC News
More than 2,000 Students Earn MCC Degrees and Certificates (05/30/2020)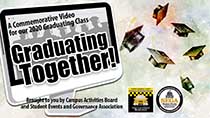 With Monroe Community College's traditional ceremony being postponed until later this year to protect the health and safety of graduates due to the coronavirus, MCC student-leaders led a virtual celebration of the more than 2,000 graduates who earned degrees and certificates as members of the MCC Class of 2020.
A
commemorative video
debuted online today, featuring tributes from elected officials such as U.S. Senator Chuck Schumer, Lt. Governor Kathy Hochul, Monroe County Executive Adam Bello; community leaders such as Greater Rochester Chamber of Commerce President and Chief Executive Officer Bob Duffy; as well as MCC administrators, faculty and staff.
Members of the MCC Class of 2020 overcame unprecedented challenges when the college transitioned to fully online and remote learning in March due to the COVID-19 pandemic. Facts to know about recent graduates include:
The majority of MCC graduates (59 percent) plan to transfer to four-year colleges and universities and continue their education. *

Approximately 68 percent of graduates who continue their education do so at a SUNY/CUNY institution. *

Of career and certificate program graduates who are employed full time, approximately 96 percent work in Monroe or an adjacent county. *

The top 10 degrees earned by MCC students include 1. Liberal Arts and Sciences – General Studies, 2. Business Administration, 3. Nursing, 4. Psychology, 5. Visual Communication Technology: Graphic Design, 6. Criminal Justice, 7. Communication and Media Studies, 8. Law Enforcement, 9. Human Services, and 10. Dental Hygiene.
Profiles of some of the members of the MCC Class of 2020 are available
online
.
MCC plans to host a traditional, in-person 57th annual Commencement ceremony later this year, if conditions permit.
* Source: What Happened to the Class of 2018
, MCC Institutional Research, 2019
.
Media Contact:
Rosanna Yule
Government and Community Relations
585-292-3024
ryule@monroecc.edu