MCC News
MCC Students to Commemorate Victims of 9/11 Attacks (09/08/2020)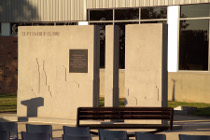 WHAT:
Monroe Community College will hold a virtual September 11 remembrance event featuring Mark Sample, associate professor of history at MCC, who will deliver keynote remarks on "Unity Through Crisis: A History of Hope." He will share his perspective on how notable tragedies in the U.S. within the past century united and strengthened the nation.
Emcee for the event is Bryce Gernon, interim president of the Brighton Campus Student Government Association. A second-year computer science student whose birthday falls on Sept. 28, Bryce is among this year's MCC freshmen and sophomores who were born in 2001.
Sponsored by the Brighton Campus Student Government Association, the event memorializes victims of the attacks on the 19
th
anniversary of 9/11. MCC students annually organize a remembrance ceremony.
WHERE:
A Zoom link will be provided to media representatives a day prior to the event upon request; please send your request to Hency Yuen-Eng via email by
noon Thursday, Sept. 10.
WHEN:
8–9 a.m. Friday, Sept. 11.
DETAILS:
After graduating from MCC with a liberal arts and sciences degree in 1992, Mark Sample earned his master's and bachelor's degrees in history from SUNY Brockport. He has taught American history at MCC since 2001. His course covers the history of the United States from the post-Civil War period (
1865
) to the present.
The September 11th Remembrance Walk (behind the PAC Center, Building 10) on MCC's Brighton Campus was erected in 2002 as a result of early efforts of several MCC student leaders, with the support of other students, administrators and local businesses. The effort to design, build and dedicate a monument was driven by a desire to create a distinct place for reflection and healing within the community.
Rochester-area architectural designer Mark Maddalina designed the monument and has returned to campus every year to speak and mark the 9/11 anniversary. Local businesses donated the materials and labor.
The memorial stands at 8 feet and 4 inches high and weighs over six tons. The inscription on the plaque reads: "Our heroes are always in our hearts. In one morning our world changed forever. Let us honor the sacrifices of September 11, 2001 by living our lives in freedom."
At 8:45 a.m. every Sept. 11, the sun aligns with the monument, a sundial, casting a shadow that bears a likeness to the Twin Towers.
A moment of silence is observed at 8:46 a.m., the time the first plane hit the north tower in New York City.
Media Contact:
Hency Yuen-Eng
Government and Community Relations
585-292-3063
hyuen-eng@monroecc.edu