MCC News
2,100 MCC Students to Earn Degrees, Certificates on June 1 (04/29/2019)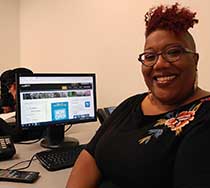 Alumna and educator Tokeya Graham '96 (pictured right) to speak at commencement ceremony
On Saturday morning, June 1,
Monroe Community College
will confer associate degrees and certificates in career and transfer programs to an estimated 2,100 students. MCC Associate Professor of English/Philosophy Tokeya C. Graham (Rochester) will deliver the keynote address. She is the ninth consecutive alumna/us to deliver the keynote address to MCC graduates and their families.
As a 20-year-old single mother, Graham pursued an associate degree in human services at MCC while raising her son. Earning her degree in 1996 opened the door to further education, including a bachelor's in English at The College at Brockport, followed by a master's in English from University of Rochester. Graham also earned a diversity and inclusion certificate from Cornell University.
In 2008, Graham returned to MCC as a participant of the Alice H. Young Diversity Internship program in the English/Philosophy Department which led to her full-time appointment. In addition to teaching, Graham serves on MCC's African American Affinity Group; Diversity, Equity and Inclusion Council; and Creative Writing Committee. She also advises the Black Student Union at MCC's Downtown Campus. All three of her children are MCC graduates.
In the Greater Rochester community, Graham writes, produces, and strives to make a difference in people's lives. She hosts the
Soulstainable Living
radio program on WAYO 104.3 FM and is a member of the
Democrat & Chronicle
's Time to Educate expert advisory panel. She chairs the Girls' Literacy After School and the Voices of Experience programs for the Women's Foundation of Genesee Valley. She is a founder of
We All Write
, a consortium of black women thinkers, and
Charity ROCs
, an online giving movement that responds to people in need.
This spring, the
Rochester Business Journal
will honor Graham as a 2019 Woman of Excellence for her inspiring work with women and girls. She previously received Delta Sigma Theta Sorority's Keeper of the Flame Award for her work in education, and additional community awards for her work in the arts and professional service.
MCC's
commencement
ceremony will begin at 9:30 a.m. at the Blue Cross Arena at the War Memorial. The ceremony will be streamed live via
www.monroecc.edu
.
Most MCC graduates choose to live, work and continue their studies in the Rochester area. Of the career and certificate program graduates from the MCC Class of 2017 who are employed full-time, 91 percent are employed in Monroe or an adjacent county.
Media Contact:
Rosanna Yule
Marketing and Community Relations
585-292-3024
ryule@monroecc.edu