MCC News
New Finger Lakes Workforce Development Center Coming to MCC Downtown Campus (08/19/2019)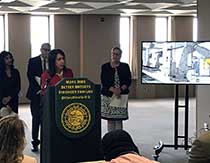 State-of-the-art industrial training facility to be managed by Monroe County; funding provided by New York State and SUNY.
Press release issued by Monroe County Department of Communications.
County Executive Cheryl Dinolfo (pictured right) was today joined by Monroe Community College President Dr. Anne M. Kress and Madhuri Kommareddi, Director of Workforce Development for New York State, to announce the creation of a new Finger Lakes Workforce Development Center at MCC's Downtown Campus. The Workforce Development Center will be a 50,000 square feet, state-of-the-art industrial training facility that will support an evolving list of accelerated training initiatives – including Monroe County's LadderzUp program – which will address workforce shortages across a variety of industries.
"Monroe County's investments in workforce development have been life changing for families across our region, as our award-winning programs have helped hundreds of individuals secure good-paying jobs in growing fields like advanced manufacturing, IT, healthcare, and more,"
said Dinolfo.
"When Monroe County partnered with MCC to build a new Downtown Campus for our community several years ago, we always envisioned the surplus space at MCC Downtown would someday house a collaborative hub for advanced workforce development training. We are thrilled to now be bringing that vision to reality and we thank MCC, SUNY, ESD, and all of our project partners for their continued cooperation and support."
MCC currently offers a wide array of workforce development programs, including both traditional and accelerated offerings. This includes Monroe County's LadderzUP program, which works collaboratively with local employers to develop targeted training programs for job-seekers. Many of these existing programs will be consolidated into the new Workforce Development Center, but the primary focus is to create a flexible space for additional programming and expanded capacity to help a growing amount of job-seekers. The facility will be built to adapt to a rapidly changing economy and meet the evolving needs of industry in the years to come.
"Education and training are key to the well-being of our region. The Finger Lakes Workforce Development Center will open the door for more individuals seeking meaningful employment and a better quality of life,"
said Kress
.
"Having the Workforce Development Center at our Downtown Campus positions MCC to play a greater role in improving employers' competitiveness and the region's economic vitality. This location also provides students with access to MCC's support services, helping even more individuals and their families build brighter economic futures. We are grateful to County Executive Dinolfo and the County Legislature for their support of the project, and Governor Cuomo, Empire State Development, and SUNY for their funding for this important regional workforce and economic development initiative. "
Empire State Development President, CEO and Commissioner Howard Zemsky said, "
As the State's economy continues to evolve, we need to give New Yorkers the necessary skills to compete in an ever-changing job market while giving businesses access to the trained workforce they need to succeed, and this move to MCC's downtown campus will continue to move the Finger Lakes forward
."
Madhuri Kommareddi
Director of Workforce Development for Governor Cuomo said, "
The MCC Forward Center is a leading model for effective workforce development through its meaningful engagement of cross-sector partners, focus on continually evolving training programs to meet employer needs, and coordination with the tremendous economic and academic infrastructure that already exists in the Finger Lakes.
"
The Finger Lakes Workforce Development Center will be located on the existing MCC Downtown Campus, in space formerly occupied by Eastman Kodak that was purchased by Monroe County in 2013. The 50,000 square feet space is currently vacant.
Design and construction will be managed by Monroe County, and paid for by $11.4 million in funding from SUNY and New York State.
Monroe County Media Contact:
Director of Communications Jesse Sleezer at (585) 753-8019
Media Contact:
Hency Yuen-Eng
Government and Community Relations
585-292-3063
hyuen-eng@monroecc.edu