FAQs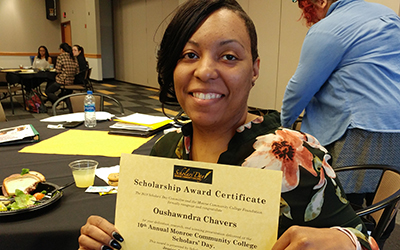 Background
The LYB! initiative is made possible thanks to generous supporters of the MCC Foundation who want to inspire MCC students to start their business in Greater Rochester and contribute to local economic development.
Presentation Tips
Presenters have up to 10 minutes to present.
Presentations will be judged based on organizational effectiveness, the unique value proposition offered by the product or service, and if there is a clear customer need for the product or service. The presenter's commitment to pursuing next steps to launch or grow the business will also be taken into consideration.
Prizes
Prize winners will receive an invitation to the Scholars' Day reception on Wednesday, May 6, 2020 at the Brighton Campus. Prizes will be announced at the reception.
For top presenters, Scholars' Day awards enrollment in the MCC Corporate College series.The series runs from June–August, 2020. Dates will be announced at a later date.
Twelve top student Launch Your Business! presenters earn a place at the MCC Corporate College, June–August, 2020. Awardees will have the opportunity to further develop their business idea with an experienced mentor and compete for additional funding awards—totaling up to $50,000—at MCC's Entrepreneurship Day in November 2020.