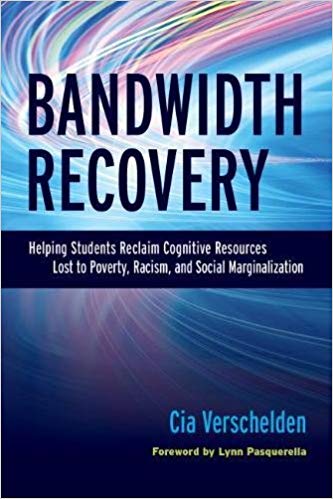 Workshops & Conferences
2019-20 THEME: A year with bandwidth recovery: helping students reclaim cognitive resources lost to poverty, racism, and social marginalization
The Teaching and Creativity Center is pleased to announce our programming theme for 2019-20: A Year With Bandwidth Recovery: Helping Students Reclaim Cognitive Resources Lost to Poverty, Racism, and Social Marginalization by Cia Verschelden. This book and focus were selected as an extension of conversations last year about inclusive teaching and educator mindset.
In Kay Ryan's poem "All Your Horses," the speaker gives voice and imagery to what it can feel like when one is utterly spent and exhausted, sometimes beyond immediate repair:
Say when rain
cannot make
you more wet
or a certain
thought can't
deepen and yet
you think it again:
you have lost
count. A larger
amount is
no longer a
larger amount.
There has been
a collapse; perhaps
in the night.
Like a rupture
in water (which
can't rupture
of course). All
your horses
broken out with
all your horses.
Grief can feel like that. Chronic pain can feel like that. Violence or distress at work or home can feel like that. Chances are that each of us has "lost count" and lost focus in such moments of personal or interpersonal hardship when everything seems to have come undone. It can be difficult to concentrate and function in those moments.
When hardships stem from structural, systemic failures and inequities, the "collapse" is not momentary but pervasive and ongoing. Those who live within the chronic, oppressive conditions of racism and poverty are often in a constant state of protective vigilance, because they have to be to survive. And this vigilance comes at a cost, both personal and collective. Personal, because of its damage to the individual. Collective, because a society that diminishes or even squelches the potential and nourishment of so many is a sick society.
Cia Verschelden invites us to imagine the cost metaphorically, in terms of what she calls lost "bandwidth." Bandwidth is a cognitive resource: the "space" (or energy) one has available at any moment for learning and functioning. In her book Bandwidth Recovery: Helping Students Reclaim Cognitive Resources Lost to Poverty, Racism, and Social Marginalization, she reminds educators that for many of our students, their bandwidth is likely already significantly depleted by the time they step into our classrooms that day.
How are they depleted, and why? What do economic scarcity or toxic stress look like in the classroom? And how, if we can't fix all the damage, can we at least make sure that our classrooms and courses do not replicate the trauma or disenfranchisement of systems we claim to abhor?
Join your colleagues in the TCC as we read Verschelden's book, engage in difficult but necessary conversations, and work to make our classrooms sites of promise for every student.
Please join us this year for a series of Conversations on the Brighton campus, Downtown Campus, and the 2019 June Teaching & Learning Conference (details for which will be announced at a later date). All faculty and staff are welcome.
Brighton Campus

Fall 2019 Conversations (All in 12-201)
Monday, Sept. 23, 12:00 PM: Who Are Our Students?
Monday, Oct. 14, 12:00 PM: Biological and Cognitive Effects of Toxic Stress
Monday, Nov. 18, 12:00 PM: Student Voices

Spring 2020 Conversations (All in 12-201)
Monday, Feb. 3, 12:00 PM: Reality Check: Implicit Bias
Monday, Mar. 16, 12:00 PM: Deficit Pedagogy v. Strengths-based Pedagogy
Mon., Apr. 27, 12:00 PM: Teaching Practices that Foster Belonging and Wellbeing

June Teaching and Learning Conference
June 4, 2020: Bandwidth Recovery: Helping Students Reclaim Resources Lost to Poverty, Racism, and Social Marginalization. With author Cia Verschelden!

DOWNTOWN CAMPUS


Fall Forum
The Diversity Council is joining in this theme for this year's 2019 Diversity Conference: Trauma and Grief to Resilience and Recovery. October 4, 2019, 8:00 AM-3:00 PM, Monroe A/B RSVP required by Sept. 20. https://www.monroecc.edu/events/diversity-conference/
We encourage all faculty to attend this conference. The Downtown TCC will be hosting follow-up conversations on this topic later in Fall 2019 and Spring 2020.
Fall 2019 Conversations (Room 404)
TBA
Spring 2020 Conversations (Room 404)
TBA