Meet Members of the Class of 2022!
MCC's newest graduates are poised to make an impact. Learn how these graduates will be applying their MCC education to the local workforce and to advanced studies at area colleges. The success of our graduates keeps MCC inspiring every day. #MCC2022
YESSICA ARVIZU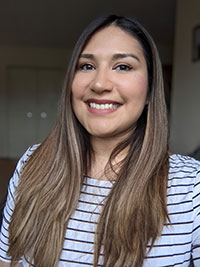 Brighton resident and Mexico native Yessica Arvizu had already earned a bachelor's in mechatronics engineering and worked two years in her chosen field when she arrived at MCC in fall 2020. "When I earned my first degree, I was only concerned with making money. I came to realize there's more to life," she said. "There's more that I can do."
Despite her college degree and related work experience, she was nervous about going back to school. "It was a lot," Yessica said. "I was self-conscious about being a foreign student. I was far away from my family, I didn't have any friends and I had decided that to be true to myself, I needed to pursue something new."
But she didn't let that nervousness derail her plans. Not only did Yessica make friends, she found assistance through TRIO, a federally-funded academic support program. MCC's TRIO program offers a comprehensive set of services to improve academic achievement, retention, graduation and transfer to four-year institutions.
Yessica, a dean's list student and member of MCC's honor society Phi Theta Kappa who also works two jobs, is very grateful for the help: "There was not a day when I didn't learn something new or my knowledge wasn't challenged. Just as importantly, there was never a time when someone wasn't there to help."
On June 2, she will receive her degree in liberal arts and sciences-general studies with a certificate in advanced studies. Through MCC's 2+2 program, Yessica will transfer to University of Rochester, where she will study to be a psychologist. "I'm so excited for the future," she said. "I'm grateful to everyone who has helped me fulfill the dream of helping others through a career I can truly enjoy."
"MCC has given me so much: knowledge, experiences, friends, passion for learning, motivation, hope… All of this makes me proud to be an MCC student, and soon a proud alumna."

ROBYN BARTLETT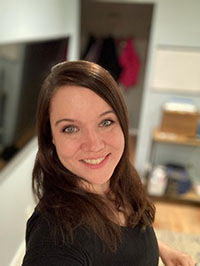 If you ask Robyn Bartlett, it hasn't been a crazy year. "It's been a crazy, crazy, crazy year," she said.
Before coming to MCC in fall 2021 to pursue an optical systems technology certificate, Robyn was a stay-at-home mom and part-time grocery clerk. After her husband, Tyler, graduated from MCC in 2019 and landed a job in the precision machining industry, she began to consider the merits of returning to college as well. Tyler encouraged her to explore optics.
Robyn, who already has a bachelor's degree in psychology, met with Professor Alexis Vogt and quickly discovered the optics field was the right fit for her. Once Robyn began her MCC studies, balancing college work and the responsibilities of 6-year-old twins Amelia and Evelyn and 3-year-old Jonathan emerged as her biggest challenge. "Trying not to feel too much mom guilt was tough sometimes," she said. Then Jonathan was diagnosed with leukemia. She thought about dropping out but decided instead to take things one step at a time. Fortunately, the type of cancer he has is treatable and Jonathan is doing well.
"I'm finally starting to think about a brighter time for us. We were doing OK financially before I went back to school ─ but just OK," said Robyn. "We couldn't think about a nicer home. We couldn't go on vacation. I'm proud that we've both worked so hard to create more opportunities for our family's future."
In February, Robyn was hired by IDEX Health and Science ─ three months before she officially earns her certificate. At some point in the future, her husband may return to college. Or she may decide to pursue a degree. For now, Robyn is looking forward to a far less crazy year. "Don't ever count yourself out," she said. "I'm 32. I've got three kids and I could have told myself that I couldn't make this happen. But I did. I tried for something better."
"I have a lot of friends who are moms like me and are looking to return to the workforce. I wish they would give more thought to the optics field."

NIA BEAZER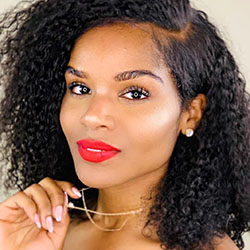 Nia Beazer was already a busy wife, mother and business owner living in New York City when COVID-19 hit. She had briefly attended college, worked in the model industry, taken a break to raise her children and become increasingly fascinated with her husband's work in geospatial information science technology (GIST).
"It's hard to believe there was a time I didn't even know what GIST was," said Nia. "But the more I learned about the difference you can make ─ the good you can do in this field ─ the more excited I was to pursue it."
She began to research the online options while her children were learning from home during the pandemic. A few community colleges offer a GIST degree, but Nia was most impressed with the program information presented by MCC. "Timing is everything," she said. "I realized they were prepping a fully online option, and an online option was going to be the best fit for me."
For Nia, who began her MCC studies in fall 2020, two years have passed quickly. Among the experiences that will stay with her is her service as president of the student-run Mapping Club. Grateful for the support of her family, in particular her husband and in-laws, she is proud to be earning her degree ─ plus a GIST certificate and microcredential ─ in June. "It's taken me 10 years to finish college, but I'm proof that it's possible!"
"My MCC education has prepared me to go straight into the industry. I love that," she added. "I can take the skills I've acquired and use them in the real world now."
"MCC is wonderful. Anyone who chooses to pursue their future here has made the right choice."
MICHAEL BURT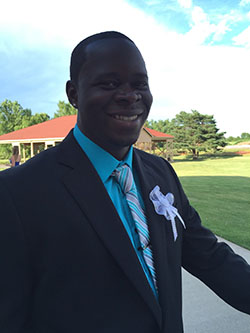 After Michael "Mike" Burt moved from the Caribbean to Rochester, he earned his GED, received an internship, and worked at both the Rochester Museum and Science Center and DePaul Community Services. At DePaul, he said, his job didn't just provide him with an income, it gave him a new perspective on life.
"To do a good job had always meant to work at the fastest pace possible," the Ogden resident said. "But at DePaul, I learned how to interact with all kinds of people ─ people with different capabilities and perspectives. That's where I began to understand that speed isn't everything ─ and realized the importance of developing good interactions with people and great customer service skills."
In spring 2019, the husband and father of two boys, David and Jacob, did something he never thought he'd do. He started college while working full time as a special projects supervisor in housing operations at Rochester Institute of Technology. But the college experience wasn't what he'd anticipated. Mike thought he'd be on his own. He thought everything would be pretty much up to the individual student. That was before he started classes to earn a heating, ventilation and air conditioning (HVAC) certificate.
"It's almost like a family," he said. "The professors are down-to-earth and approachable. They really want you to succeed." Mike didn't just survive college ─ he thrived at MCC, earning a HVAC certificate with distinction last December. He has even hired a few fellow students to work with him at RIT. "I'm proud of myself," he said. "I've proved the doubters wrong. And my kids? They want to be like me when they grow up."
"If I've learned anything, it's that you should never stop learning because life never stops teaching. MCC showed me that."
ZHARRIAY CALLIER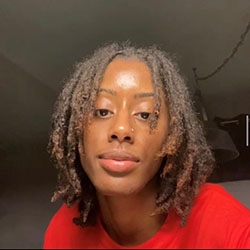 Zharriay Callier knew she wanted to attend MCC when she was a student at Rochester's Edison Career & Technology High School. "I knew my city. I knew the endless opportunities our community's college could provide. I knew I wanted to pursue my own dreams here," she said. "I just didn't know what I wanted my direction to be."
So, she went online. She explored MCC's programs. She read pamphlets and talked with a college counselor. Finally, she decided to pursue her future with a criminal justice degree. "I realized criminal justice isn't just about being a police officer," she said. "It involves law, ethics, human decency, the court system, and maintaining a civil society. It impacts the quality of our lives in so many ways."
Zharriay has worked as an intern with MCC Public Safety peace officers on the Brighton and Downtown campuses. She also works part time at Unity Hospital and is exploring volunteer opportunities with the Rochester Fire Department.
Describing her MCC experience as "life-changing," she said college hasn't always been easy. Being a participant in the Educational Opportunity Program has helped. "MCC has so many resources to support student success, but you have to visit the tutoring center. You have to apply for the grant. You have to ask questions," she said.
In addition to being grateful to those MCC faculty and staff who helped her along the way, she is also deeply appreciative of Natasha Santangelo, her mom. Describing her as a cook, a therapist and a persuader who's not afraid to confront people over unfairness and injustices, Zharriay said her aspirations grew from her mom's example of leadership. "Whenever I had doubts, my mom would remind me that I started this journey and needed to finish," said Zharriay, who will cross the stage on June 2. "I'm glad I listened."
"At MCC, you're not alone. Have a problem? An obstacle to overcome? There's so much help here. All you've got to do is ask."
LANDON DEBES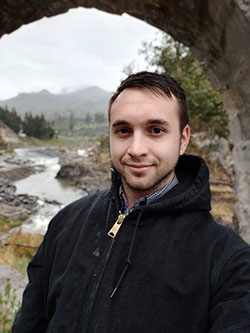 When Landon Debes looks out over Lake Ontario from Durand Eastman Park, he envisions a lake that's clean. He pictures an expanded area created to better enjoy the beautiful, waterfront view. For Landon, a strong connection exists between his life, higher education, and a more sustainable future.
A graduate of the Rochester City School District's School of the Arts, he first attended MCC in 2013 to study psychology. However, after his first semester, he moved west.
Family ties eventually brought him back to Rochester. A love of learning and expanded remote learning options resulting from the COVID-19 pandemic brought him back to MCC.
"Online learning was not as bad as I thought it would be," Landon said. "I learned to enjoy the challenge and earned straight As for three semesters."
At first, Landon didn't consider himself a scholar. He does now. Over the past two years, he looked for ways to engage in campus life and share what he knew about the college with other students. As a peer navigator, he was one of the first to welcome students and families to MCC. Landon also played a pivotal role in helping the college transition back to safely serving more students in person. He assured students that "there is no better place than MCC. If you live in Rochester, it's your best option."
MCC Transfer Counselor Rebecca Mack encouraged Landon to follow his personal vision and unique career goals—leading to the positive impact he wants to make on the world. After earning an MCC associate of science degree in liberal arts and sciences on June 2, Landon plans to transfer to SUNY College of Environmental Science and Forestry (SUNY ESF) on his way to a career in environmental studies.
"I value my MCC degree; it's negotiating power," Landon said. "It's good to have studied a diverse range of topics and use them in combination."
"I want to have a positive impact and leave something for the world."
JAY JENEAULT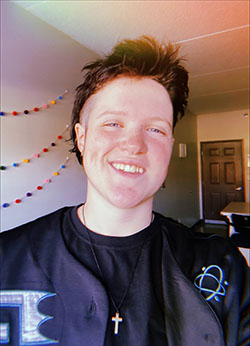 Jay Jeneault was a Canandaigua High School freshman walking around a school activities fair when he stumbled upon the theater club and decided to join its production crew. Little did Jay know then how that chance encounter would change the direction of life so dramatically.
By the time MCC was recruiting the centerfielder to play softball, Jay had begun to explore the possibility of majoring in theatre arts here. However, fall 2020 wasn't the typical first semester in college that students generally envision. Because all classes were online, Jay initially struggled to enjoy the experience. Despite the many challenges of a pandemic, Jay persevered.
"My time here has been so unpredictable," said Jay. "Who knew I'd have a roommate from Italy or end up being president of the Theater Club? Who knew I'd stage manage the fall musical or earn a SUNY Chancellor's Award? It's been so great, but it's also been crazy," he said. "I've learned a whole lot ─ and I wouldn't trade my MCC experience for the world."
In August, Jay will spend the next four months as a crew member in the Disney College Program, then transfer to SUNY Oswego as a technical theater major in the spring. He's looking forward to the next chapter.
"My MCC professors have all been absolutely phenomenal. My advisor Professor Heather Chang is an amazing person who cares so much about theater that it's contagious," said Jay. "Ultimately, whether I land in New York or end up working in community theatre somewhere, I know if I'm involved in stage work I'm going to be very happy. I'm going to be thrilled."
"Because of COVID, my MCC experience hasn't been what I expected. But in many ways, it's been better than I ever could have imagined."
MARK T. PAYTON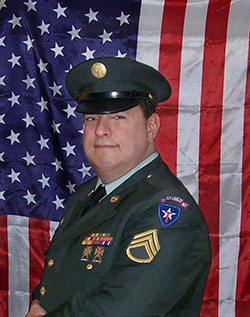 An accomplished artist whose clients include the Landmark Society of Western New York, 59-year-old Army veteran Mark T. Payton has gained local and national recognition for his drawings. His commissioned drawing of a Navy armored cruiser, the USS Rochester, is part of a permanent exhibit currently on display at the Military History Society of Rochester.
Mark has been drawing all his life, his earliest art reflecting a childhood spent in Argentina, Puerto Rico and Mexico where his missionary parents were assigned. In 1985, he enlisted in the Army after studying fine arts at Kentucky's Asbury University. Upon completing several years of military service, Mark held sales and tech jobs.
When he was laid off in 2019, he became eligible for assistance from the U.S. Department of Labor's Trade Readjustment Allowances, a national job retraining program that provides job retraining funds. The following year, he began at MCC.
Since then, members of the MCC community, including Visual and Performing Arts faculty Marj Crum and Hilary Toothe, have become his posse of encouragement.
In his final semester toward completing his MCC degree in graphic design, Mark took one in-person and two online MCC classes. He also attended biweekly chemotherapy sessions. "I'm sleeping 10 to 12 hours most days, but quitting is not an option," he said in fall 2021.
When chemo treatments made public transportation from home to campus unwise, Mark said, MCC's Veterans Club and local Vets Driving Vets program stepped in. "All of my professors have bent over backwards to help me deal with the cancer," he said.
After working with Urban Sketchers, a nonprofit global community of artists who draw on location, Mark now aspires to become an urban sketcher and illustrator at Disney World. "I've been sharing my ideas about Disney with Marj Crum, and Hilary Toothe is helping me develop a portfolio and resume," he said. "I'll keep my friendships with professors long after I leave."
"I'll keep my friendships with professors long after I leave. There are always going to be people who don't support you. If you want to succeed, look for those who do."
JIMMIE SALONE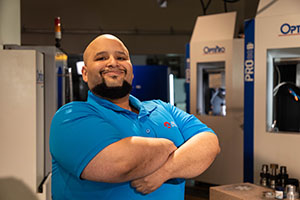 Jimmie Salone began at MCC fresh out of high school. As a communication/media studies major, he did reasonably well. But despite his best efforts, Jimmie knew his heart simply wasn't in it. He dropped out at the end of his third semester, determined to find his true calling. There were other jobs. However, nothing really clicked until he began his career at JML Optical Industries, Inc.
As he began talking with Steve Burton, JML's operations vice president and other colleagues, Jimmie became increasingly fascinated in the optics field. For the past three years, he's been working as an apprentice, training in all areas of the company to gain knowledge and experience in every aspect of the industry. This month, just weeks before he earns his MCC degree in optical systems technology, 30-year-old Jimmie will also earn his journeyman status. Of his accomplishments, he said, "A lot of people think they couldn't possible do it. I'm here to tell you, you can. I started with one course that first semester. After taking Intro to Optics, I knew I'd found a new direction."
Jimmie said he's also gained a network of valuable regional contacts in the optics field. "The faculty at MCC did a wonderful job ─ not only in teaching us but allowing students to become acquainted to get to know each other's specializations. Now, we each have this deep well of resources going forward." While earning this degree is the culmination of a dream for Jimmie, it's also a proud new beginning. "I've recently realized that I really enjoy training. So, with that in mind, I want to keep moving up ─ keep encouraging others and contributing my best efforts to JML."
Last October, he bought his first home in Greece. It's located near his aunt and uncle and close enough for his godchild to visit often. "I owe it all to optics," Jimmie said.
"I've always loved science and I've always loved working with my hands. MCC's optics program has allowed me to earn a degree that involves both. I've found my future here."
Jackson Simeone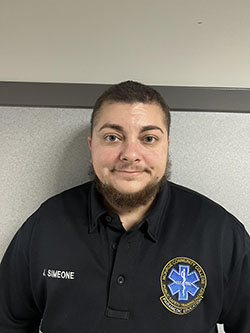 Come June 2, Rochester resident Jackson Simeone will achieve his fourth college credential.
Jackson earned his first MCC degree in physical education and exercise science with distinction in 2014. Two years later, he earned a bachelor's degree in kinesiology from SUNY Brockport. But Jackson couldn't find a job in his chosen field. The full-time EMT earned an emergency medical services (EMS) certificate three years ago and in fall 2021 returned to MCC once again to pursue a second associate degree ─ this time, an A.A.S. in MCC's paramedic program offered at the Public Safety Training Facility.
Jackson is no stranger to a full and abundant life. An avid reader and hiker, he is the stepparent of two daughters, ages 8 and 10 ─ an individual whose chosen career demands high energy as well as complex knowledge and skill. Despite the inherent challenges of juggling work, family and college, Jackson opted to tackle the rigors of earning a degree during COVID-19. But he balks at the notion that a pandemic would get in his way. "I just did what I had to do," he said. "COVID? I just kept on ─ just got through it."
Now, armed with a degree, he intends to keep on helping people when they need it the most. "A good shift could mean an unusual call ─ something different, something you don't see every day," he said. "It could mean enjoying a good rapport with your partner, an appreciative patient, knowing you've done your best ─ you've made a difference. Sometimes, it's the crazy experiences. Other times, it's the little things. Every day, I just want to try and be the best in what I do."
"Once you figure out what you want, you've got to dig in and go after it yourself. There are no shortcuts. You've just got to do the work."
ELLASHIA M. SPAULDING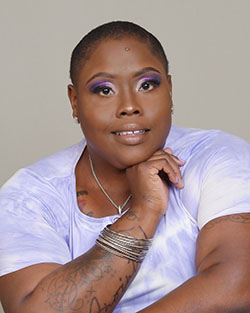 Ellashia M. Spaulding is a college student, Girl Scout leader, an ordained ruling elder, a full-time charter school employee and an only parent of 9-year-old daughter Serenity-Rien. Ellashia is more than busy; she's driven, determined to help children and families even more than she already does. "They're my passion," she said.
In fall 2020, Ellashia, a 2004 high school graduate who briefly attended Wilmington College, decided to begin at MCC. "I knew I'd never know what I could do if I didn't try," she said.
The Farmingdale, N.Y., resident and liberal arts and sciences-general studies major took all her coursework online and is appreciative of the faculty and staff who offered their assistance along the way. "MCC has this amazing community of helpers," she said. "Whenever I reached out, there was always a response ─ a wonderful level of care. I was never afraid to ask for help ─ and that was important to me."
Ellashia extends special credit to Health and Physical Education Professor Melany Silas. "When I lost my brother, Professor Silas understood what I was going through. Her caring and concern was so healing," she said. "All my professors were wonderful, but Professor Silas made an enormously positive impact."
She is also extremely appreciative of her mother, whose faith in her abilities and support of her efforts have helped enable her success. "My mom will be talking to someone and I'll hear her say, 'I don't know how she does it all,' and I know she's proud. I wouldn't be able to do this without her and my daughter. I owe them so much."
After her MCC graduation, Ellashia plans to continue her education at SUNY Empire State, with aspirations to become a dean in the charter school system. She's looking forward to crossing the stage on June 2. "I'll be graduating on my birthday," she said. "And I can't think of a better gift to give myself."
"I'll always measure my success by the positive changes I see in my students. They are what drives me. MCC has helped me determine my direction ─ my life's work. This is where I'm meant to be. It's what I'm inspired to do."
MARY M. TAYLOR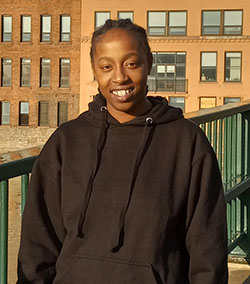 Mary M. Taylor has many talents and one significant strength. "I know how to juggle," she said.
For this Seneca Falls resident and busy mother of two, staying on top of things has been essential to successfully completing her criminal justice police degree. It's a dream she's had since leaving MCC in 2012. However, like so many others, the responsibilities of parenthood don't leave Taylor much spare time.
Fortunately, she discovered the many options MCC provides for students who can't or don't want to take their courses on campus. "The hybrid course I took was great," she said. "I really enjoyed the in-classroom, face-to-face instruction but because we did most of our assignments remotely, I wasn't commuting all the time. It was a good balance for me; it was just enough."
When not studying or working as a Walmart cashier, Taylor enjoys playing basketball, softball and spending time with her kids. She credits the sister who helped raise her for having the biggest impact on her life and for believing in her ability to complete the dream she came close to abandoning ─ the dream of earning her criminal justice police degree.
For now, Taylor is taking a security job with hopes of eventually entering the county system. "I've worked hard to come this far," she said. "I'm ready to begin a better future."
"College requires self-motivation. You've got to be willing to go after your dream with everything you can."