MCC News
Rwandan Genocide Survivor to Speak at MCC's Human Rights Day Celebration in December (11/20/2018)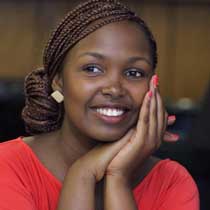 D
ydine Umunyana (pictured right) shares experience of becoming a human rights advocate after witnessing massacre as a child.
Dydine Umunyana
was 4 years old when she survived the Rwandan genocide against the Tutsis in 1994. Today, she is a human rights advocate and author, focused on establishing dialogues to help people overcome cultural differences and build lasting peace and more inclusive societies. Umunyana will be the featured speaker at Monroe Community College's Human Rights Day celebration, hosted by the Holocaust, Genocide, and Human Rights Project (HGHRP) and the Office of Global Education & International Services.
The event will be held 7 p.m. Wednesday, Dec. 5 in MCC's Warshof Conference Center, R. Thomas Flynn Campus Center, 1000 East Henrietta Road, Rochester. The event is free and open to the public. Tickets are required and available at
www.monroecctickets.com
. Parking available in Lot M.
Amid the mounting hostilities facing Tutsis, Umunyana's family fled their home in Kigali, Rwanda in 1991 when she was just a child. They went first to her mother's family in the east of the country, while her father left to join the Tutsi-led Rwandan Patriotic Army. When the genocide began in April 1994, Umunyana and her family sought protection, but were thrown back into the streets. They fled to a refugee camp near Uganda. Umunyana and her siblings were reunited with both of her parents after the genocide ended.
Umunyana's memoir, "Embracing Survival," tells how she barely survived the genocide and how she coped after the massacre of the Tutsis. In 2013, she was appointed a youth peace ambassador for the Aegis Trust, an organization dedicated to the prevention of genocide and mass atrocities worldwide. In 2015, she became a global mentor for peace at Serve to Unite, an organization that cultivates peace through creative service learning and global engagement.
The event serves as a precursor to the HGHRP's 2019 series of events that will commemorate the 25th anniversary of the Rwandan genocide.
The
Holocaust, Genocide, and Human Rights Project
was established in 1991 as MCC's unique organization for telling the stories of the Holocaust and other genocides while transforming individuals to become advocates for human rights.
Media Contact:
Rosanna Yule
Marketing and Community Relations
585-292-3024
ryule@monroecc.edu