MCC News
MCC Alumna's Story: Five Years and Three College Degrees Later, a Business Career Awaits (07/29/2020)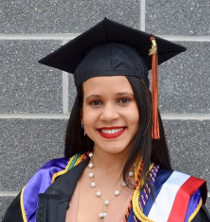 Carmyn Gomez '17 reflects on her life-changing experiences as a first-generation student at MCC and shares her journey in hopes of inspiring others.

There is not a "right" way to start a college career and there are many different paths that can lead students to their end goals. As the first generation in my family to attend college, it was important for me to choose not only what career I wanted to pursue but also where I wanted to go. I wanted to pursue a degree in
international business
because I knew there were different routes I could take my career. My college journey started at Monroe Community College but would lead me to complete my bachelor's and now my master's degree at Rochester Institute of Technology.
Money definitely played a big factor in my decision to start at a community college, but later I also learned it was the smart decision to make. Generally during the first two years of college, students mainly take elective classes and if they already have a career in mind, they have the opportunity to pursue courses toward that degree in a four-year institution. My decision to attend MCC helped my family to save money and gave me the opportunity to start to fulfill the requirements to complete my bachelor's degree.
After figuring out the academic and financial benefits from MCC, it was essential for me to still have the college experience. MCC offered many resources,
clubs and organizations
as well as student jobs. I held leadership positions in multiple organizations such as senator and vice president in the Student Government Association, was a member of the Phi Theta Kappa honor society, and participated in the Model United Nations program, to mention some. These positions taught me how to network and how to delegate tasks to other members. All these opportunities led me to receive many awards, including the SUNY Chancellor's Award for Student Excellence and scholarships to the four-year colleges I applied.
During my time at MCC, I would constantly meet with my academic advisor as well as a transfer advisor to determine my career path. Additionally, advisors from four-year colleges would visit MCC offering advice to students looking at transferring. While MCC has a
2+2 program
to transfer credits, I would later learn about RIT's 4+1 program and the possibility for me to graduate with my master's in business administration. By the time I graduated from MCC with an associate degree in international business in 2017, I felt I had the foundation to continue to strive for greatness.
The most appealing feature about RIT is its co-op and internship program that is built into the degrees. I knew that if I wanted to get a job after college, this experience was going to be essential. When I transferred to RIT to pursue a bachelor's degree in international business, I had to get a co-op. With the resources from RIT, and my networking skills, I was able to land my first co-op for eight months at a major luxury German car manufacturer in South Carolina in summer and fall 2017. Later in summer 2018, I was able to obtain an internship at a major consumer electronics company on Long Island. At RIT's Saunders College of Business, I was a social media director for the Global Business Group club and a member of Delta Sigma Pi, the international business fraternity.
I graduated in 2018 with a bachelor's and decided to take advantage of the 4+1 program to complete my master's in business administration. I graduated on May 8, 2020, (shown at right) and look forward to returning to the car manufacturer in South Carolina in August to work full time.
I started college in a nontraditional way. Starting my journey at a community college helped save me money and I was able to work my way up to accomplish my end goal: to obtain my MBA. Because I took advantage of many opportunities throughout college, I have the foundation to continue to improve my personal growth and professional development and to start my career in South Carolina.
Carmyn Gomez is a 2020 MBA graduate of RIT and a 2017 MCC graduate.
Media Contact:
Hency Yuen-Eng
Government and Community Relations
585-292-3063
hyuen-eng@monroecc.edu