Clubs & Organizations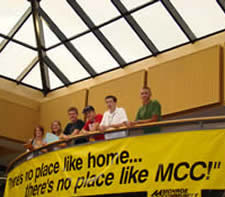 MCC offers over 60 chartered clubs and organizations for students to experience. Academic, cultural, recreational, religious, special interest and professional/honor societies give the opportunity to explore your interests, meet people, and develop valuable leadership and organizational skills while you have some fun along the way! If you don't find something to fit your interests, you can always start a new club! Find other students who share your interests, then make an appointment with the Office of Student Life and Leadership Development (3-126). If you need any assistance please e-mail Student Life.
American Sign Language Club (ASL) This club has four distinct purposes in their mission; (a) to learn about the Deaf Culture, (b) involve its members with various activities that the Deaf Culture encounters in the Rochester Community (c) to examine the differences between the Deaf world and the hearing society and (d) to encourage hearing people to get involved in the Deaf culture.
ANIME Club The purpose of this club is to ensure members understand and appreciate the art of Japanese Animation, or ANIME. Their goal is to meet with other like-minded students who share the interest of ANIME and study animation techniques that are unique to this art form.
Biology Club This club explores all aspects of biology and related fields. Students will also learn about biological career paths.
Black Students Union (Brighton Campus) The purpose of this club is to promote awareness and serve as a support system for African American Students on campus. This club provides regular programs and education, cultural awareness and social events that highlight the contributions of Blacks in America.
Black Student Union (Downtown Office of Campus Life) The purpose of this club is to represent Black students' ideologies and experiences around a variety of college related subjects and/or topics.
Cabbages & Kings An award winning organization, Cabbages and Kings is a student run literary magazine publishing and writing entity on campus. Students write, and publish their art work, poetry pieces and design their own graphics for publication.
Campus Activities Board (CAB) This student run organization implements some of the largest campus wide events. CAB designs the Homecoming Headliner, Spring Fling, Concerts, Novelties, Breakfast with Santa and more! CAB provides opportunities to work with agents, review contracts, manage a budget and travel. If you want to plan huge events, then CAB has a place for you!
Campus One80 This group provides a Christian Fellowship for a diverse group of students and helps them understand the importance of the Christian church in their lives. They also provide opportunities for those who are interested in investigating or developing a Christian lifestyle, a comfortable atmosphere for exploring different religious affiliations.
Celtic Society This club was established to honor and practice the traditions of the Celtics. This club celebrates the traditions and inspires awareness of Celtic culture (Scotland, Cornwall, Wales Brittany, Isle of Man, Ireland and Galicia). Their goal is to educate and celebrate the Celtic arts and culture.
Cheerleading Club The purpose of the organization is to teach people how to cheer and learn new skills. The club will also teach people how to work as a team, which includes effective communication. Anyone can join that is interested, no matter how good or bad they are at the sport. This club will also allow people to meet many other people that they may not know.
Chemistry Club The purpose of this club to nurture interest and expertise related to educational and vocational areas of chemistry
Chess Club The purpose of the Chess Club is to create an atmosphere to play and learn chess; to produce quality chess players through workshops and exhibitions; and to provide an atmosphere to make friends.
Chinese Culture Club The purpose of this club is to strengthen its members' understanding of the Chinese language and culture. Although understanding the culture is a benefit to joining this club, their main focus is to teach, educate and strengthen students' skills in the Chinese language.
Cinema Society The purpose of the club is to promote all aspects of cinema at the Brighton campus through several events and projects such as film festivals and small productions, as well as appearances and speeches by individuals involved in filmmaking.
Club for Surgical Technology The purpose of this club is to promote the field of Surgical Technology to MCC and the surrounding community; educate, upon their arrival, incoming Surgical Technology students, and those interested in the program and/or field; and provide community service to the campus, as well as the local community.
Comic Book Club The Comic Book club will provide a space for those how appreciate graphic novels, art, and comics (artists, writers and fans who consider themselves neither but still enjoy the medium) to connect, collaborate, and have opportunities to interact with local and international comic creators.
Criminal Justice Club (Downtown Office of Campus Life) The purpose of this club is to expose members to a wide variety of different fields and careers in the criminal justice field, by hosting speakers and providing field trips to criminal justice affiliated facilities.
Disability Awareness Club (Downtown) The purpose of the Disability Awareness Club is to educate the community about different disabilities and to provide support to students with disabilities.
Engineering Leadership Council The goal of this organization is to explore different aspects of engineering fields which include the fields of civil, chemical, electrical and mechanical engineering. Their goal is to provide lines of communication between students and practicing engineers by means of seminars and field trips. They assist students in deciding what field of engineering to pursue and what transfer schools are appropriate. The group also sponsors and participates in design competitions.
Global Union The purpose of this organization is to provide a forum and a place to call home for international students at MCC. Our goal is to promote understanding and goodwill between international students and their American counterparts. Students exchange ideas, provide cultural awareness to the student body, conduct trips to various parts of the United States and plan activities on campus together.
Healthy Baby Network Club (Downtown) The HBN FATHERHOOD club at Monroe Community College aims to recognize the importance of excellent fathers and men of color. This Fatherhood club is an extension of the Healthy Baby Network Fatherhood program, which acknowledges fathers who are willing to provide support and educate themselves while gaining leadership skills, and services and opening new chapters in their lives through this program. As a result, the fathers achieved greatness and excellence in scholarship and life skills. Since our Fatherhood program started, we have sought to achieve these characteristics.
Holocaust, Genocide, and Human Rights Project (HGHRP) The purpose of this organization is to serve as Monroe Community College's unique advocate for telling the stories of the Holocaust and other genocides while transforming individuals to become advocates for Human Rights. We provide programming; events and lectures that help people understand the rights for everyone.
Hospitality Club Acquaints students with the food service and hotel industries, and identifies where a student's interest might be in the field. Members have an opportunity to exchange ideas and experiences through discussion, study, field trips, menu planning and publication.
Human Services Club (Downtown Office of Campus Life) The purpose of this club is to help students recognize human service as a profession with rights and responsibilities.
Japanese Cluture Club The purpose of the Japanese Culture Club will be to provide any student the opportunity to learn and experience Japanese culture as well as raise awareness of cultural differences and diversity in our community. The club will provide this in a variety of ways from workshops, games, movies, lectures and more. The club will also serve as another opportunity for students to learn and practice Japanese.
Martial Arts Club The purpose of the MCC Martial Arts Club (MCCMAC) is to promote the study and safe practice of Martial Arts, limited only to the knowledge of our members, for the purposes of their mental and physical benefits. Our goal is the broaden the horizons of resident martial artists, introduce newcomers to the world of Martial Arts, and to help promote a sense of community and respect amongst the student body.
MCC Mapping Corps This club promotes networking among students and with faculty associated with MCC's Geographic Information Science and Technology (GIST) and Geography programs; acts as a vehicle to promote humanitarian mapping as a Chapter of YouthMappers; and facilitates networking and professional development with the broader GIS/Geography community.
MCC Theater Troupe The purpose of The MCC Theater Troupe is to hone talents and passion, then introduce hard work, and ultimately, turn talent and passion into skills. This club will demonstrate how hard work, passion, friendship and teamwork is fundamental into every avenue of success.
Monroe Doctrine Newspaper This organization is a student run newspaper, where students learn the overall workings of a newspaper. Students experience everything from managing a newspaper, editing, copywriting, layout, distribution and photo editing.
Muslim Student Association Explores the practices of the Muslim Religion and provides the opportunity for students to combine student activities and religious practices at MCC.
Napali Student Union The organization's purpose is to help the diverse student body at MCC become leaders by establishing an environment of support and networking, through learning about (and engaging in) Nepali culture
Optics Club The mission of this club is to hold activities that engage the students, faculty, & staff of MCC in Optics through outreach, activities, and presentations. The MCC Optics club will maintain affiliations with the Optical Society of America and SPIE, the international Society for Optics and Photonics.
Phi-Theta-Kappa This organization recognizes and encourages the academic achievement of two-year college students and to provide opportunities for individual growth and development through participation in scholarship, leadership, service and fellowship activities.
Pride Alliance (Brighton Campus) Pride alliance is a safe space for students at any point of their journey to come and support LGBTQ+ students and community on campus. This group acts as an advocate for students by promoting the awareness and education about the LGBTQ+ community. We also promote diversity among MCC students.
S.A.D.H.A. [Student American Dental Hygienists' Association] Students explore experimentation and receive hands-on experience in the field of dental hygiene. Upon graduating, students earn the right to become a member of the parent association (American Dental Hygienists' Association).
Smash Club The purpose of the organization is host a competitive yet welcoming environment for players of all skill levels who are interested in playing all titles of "Super Smash Brothers" at competitive level. To hold tournaments on campus where players can meet people whom they have not met before that share the same interests as them and bond over a mutual love for the game. All while offering a safe place for players to improve their mental fortitude and hone their skills while being exempt of judgement.
Society of Women Engineers + STEM The Society of Women Engineers and STEM are guided by the mission to stimulate women to achieve full potential in careers as engineers, and in stem field and leaders, expand the image of the science profession as a positive force in improving the quality of life, demonstrate the value of diversity.
Student Government Association (SGA) The Student Government Association (SGA) promotes the general welfare of the student body, serving as the student's voice in matters concerning MCC students. SGA also provides opportunities to participate in planning events on campus and in the community, valuable volunteer opportunities, plus travel and scholarship opportunities.
Student Music Association Students learn the art of different types of music by learning and experiencing different instruments. Students have the opportunity to play in a live ensemble while other students experience the joy of singing in the club.
Student Nurses Association Students who are continuing a career in nursing experience the cohesiveness and networking experience by servicing the college and community. Opportunities to assist and mentor incoming nursing students into the program are encouraged.
Surgical Technology Club The purpose of this club will be to promote the field of Surgical Technology to the MCC campus and surrounding community, educate, upon their arrival, incoming Surgical Technology students, and those interested in the program and/or field and provide community service to the campus, as well as the local community
Sustainability Club The purpose of the Sustainability Club of MCC is to inspire behavioral and conscious decisions to positively impact ourselves and the environment we interact with in order to create a more balanced relationship with the natural world. We strive to encourage environmental stewardship through a broad spectrum of educations on environmental topics both locally and globally. We work to create a group of aware and conscious individuals that advocate for social justice in regards to green practices.
Table Top Club The mission of the Organization shall be to foster a community that is a stress free and supportive environment to balance the weight of college life via gaming.
Travel & Tourism Students have the opportunity to learn the basic concepts and standards of the travel and tourism business. Students receive hands-on training in airline reservations, tours and conference planning. The Organization shall work to assist in facilitating role playing games and other tabletop games held within the college.
Veterans Club The purpose of the Veterans Club is to be a support system as well as a meeting place for fellow military veterans. This club will assist each other with positive motivation to achieve personal goals as well as leaving a legacy for fellow veterans to follow. The Veterans Club works to bring about awareness of issues that are facing our Veterans. The club encourages friends and students who wish to help our soldiers to join this great club.
WMCC Radio- The PULSE! This organization serves as a training mechanism for those who wish to take advantage of the knowledge and experience available in the broadcasting and communication fields. Students have the opportunity to learn the business side of operating a radio station, become a DJ, produce and explore the advertising end of the radio business.
Young Democratic Socialists of America Our mission is to educate and organize students and young people and to play a helpful and principled role in the movement for social justice. Within and throughout this struggle, we will articulate and defend the idea that true human liberation is impossible under capitalism. We seek social change which extends democracy into all aspects of life -- social, political and economic. This is the struggle for democratic socialism. Our vision of socialism is profoundly democratic, feminist, and anti-racist.